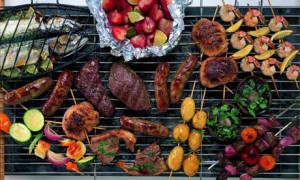 Nothing smells like summer quite like a barbeque! One whiff of smokey charcoal and slightly singed sausages from over the neighbour's fence makes your mouth instantly water, and before you know it you're fantasizing about sun, sangria and a nice juicy hot dog.

But as all us women know, throwing a good barbeque party isn't quite as easy as men think. There's a lot more to it than wheeling out the trusty (or should that say rusty?) barbeque, lighting a bag of coals and chucking some meat on it in – the perfect 'al fresco' dinner requires planning, practice, precision and patience.
Men just love outdoor cooking; even those who can barely boil an egg in a kitchen suddenly come over all Jamie Oliver at any mention of the words 'sunny' 'meat' and 'fire'. It takes them back to their Boy Scout days when they could spend happy weekends running around in forests, building campfires and play-fighting with sticks.

Unfortunately they never seem to grow out of these boyhood activities, and forget that behind every tasty campfire meal they enjoyed was a stressed out Scout leader scurrying around in the background organising the drinks, beans, mashed potatoes and buns, and the single burger they managed to burn cook was actually only a very minor part of the meal.

Being the partner of a barbecuing male is much like being a Scout leader!

There are literally thousands of tips and techniques to help make your burgers bangin' and your sausages sizzling, but undoubtedly the two most important rules in the barbecuing rule books are that, if you're raiding the freezer for food, you should give meat plenty of time to completely defrost, and make sure it is thoroughly cooked before serving it to your guests. This is rarely an issue though, as more often than not you have to pick through several layers of carbon black crust before reaching any kind of edible meat anyway!

Burger relish and ketchup are a barbeque's best friend as they're great at disguising any scorched bits or accidents.  A nice crusty roll and a good squirt of sauce can help turn even the saddest looking banger (you know, the one that slipped through the grill into the ashes) into something amazing and delicious.
But don't be fooled into thinking you can only cook meat on your barbeque this summer. Fish and vegetables can make a delicious alternative to the standard meat feast of burgers and sausages, with salmon, sardines and corn on the cob becoming increasingly popular options with outdoor diners.
You can even cook dessert on the coals with a little bit of imagination; simply split a banana in half and stuff the middles with chocolate buttons and mini marshmallows.  Wrap in foil and place on the grill for a few minutes, then remove the gooey banana from the foil and serve with ice cream or cream. Yummy!
But if all this sounds like too much hard work, just sit back on your deck chair, relax and fire up your tablet or laptop instead. Mecca has some sizzling summer offers on throughout July, such as Free Speed Bingo where your nifty clicking could win you up to £300 a day without spending a single penny.