Pet Of The Month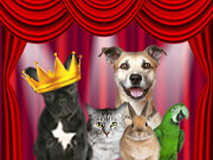 They say pets make a house a home and whether you have a dog, a cat, a hamster or goldfish there's no denying that our furry/scaly/feathered friends hold a very special place in our hearts. This month at Mecca we're celebrating the release of our hilarious 'dancing dog' advert by going animal crackers and dedicating ourselves to all things 'pet' related.
Did you know that more than half of UK households own a pet and as a nation of animal lovers we certainly seem to go crazy for our beloved creatures? My Facebook pages are always packed with pictures of my dotty mates and their even pottier pets!
My bestie is always dressing her dog up in the latest canine couture fashion accessories; such as 'doggles' for example – sunglasses for dogs – and sharing pictures of him online, much to our amusement. It's lucky dogs don't get embarrassed!
Since Ashleigh and Pudsey won Britain's Got Talent in 2012, the UK has been gripped by animal fever with owners going to huge lengths to try to teach their pet tricks, although very few are as talented as that clever pair – my husband can't even dance (or look as cute) as Pudsey can!
But even the quietest of creatures can fill our homes with love and affection, and there's nothing quite like cuddling up on the sofa at night with a purring cat on your lap to help you relax and forget about the stresses of the day.
And it's no wonder we love our pets so much; they're often the least demanding members of the family but show us the most love. Your fish won't care what you give them for dinner and your dog won't nag you day and night to buy them the latest iPhone or new pair of trainers…they're always happy to see you and just love you for being you.
We're no different here at Mecca and as well as owning some adorable pets of our own, we love reading the funny and heart-warming stories that regularly get shared in the chat rooms about your amazing animals. This is why we introduced the Pet of the Month competition which is free and open to all Meccabingo.com customers.
Becoming a Mecca customer has never been easier, and when you join and deposit just £10 you'll be able to play with £50. Plus, we'll give you a £10 voucher to spend in your local club.
So, if you think your pooch is perfect, your feline friend is the cat's whiskers, or your fish is 'fin'tastic all you have to do is email us a picture of your pet along with your Mecca username, the name of your pet and some information about them to: community@meccabingo.com. Your pet could win the coveted title of 'Pet of the Month' as well as £20 of Amazon vouchers and £25 in Bingo Bonus Funds (although I'm sure they won't mind too much if you spend them on their behalf!).