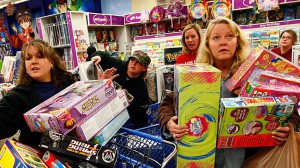 As Black Friday approaches – November 28th – look out for some fantastic deals online. You might not be able to find a new man in the sale, a hunk who picks up his dirty boxers off the floor and offers to cook, but as far as electricals and clothes go, you're in for a winner.
Black Friday is traditionally an American event, and occurs after Thanksgiving, but as with everything they do over the pond, we've decided to do it too. Actually, think yourself lucky that Black Friday isn't as big over here yet, because you would probably witness scenes like this in your local Asda. Perhaps you've already seen this sort of thing? The sales at Next can get pretty crazy.
You might have been saving your money ready for December but why rush around amongst the hoards of manic Christmas shoppers when Black Friday is the perfect opportunity to get some early Christmas shopping in?
Amazon is the main site to feature deals but you'll also find Argos, John Lewis, Curry's and Very.co.uk also getting in on the action. So if you're ready for some deal hunting, then here are some top tips on how to get your hands on the best bargains:
1. Get in there early 
Some shops are starting to advertise their deals already, so by the time Black Friday actually rolls around you could have missed out. Start looking for online from November 24th.
2. Look out for lightening deals
This is Amazon's idea of course – every day the online shop will promote a 'one time only' deal on something such as a telly or GHD's – that you simply won't be able to say no to.
3. Get free delivery
If you're actually planning on spending quite a bit with Amazon (let's face it, you probably will) then it's a good idea to opt for a 30-day, free trial of Amazon Prime and get your items delivered within one day. Just make sure you cancel it before the 30 days are up or you'll have to fork out £79 a year for it!
4. Stick around for Cyber Monday
If your family has filled their wish list with nice and expensive electrical items (you know the sort of thing: games consoles, hair straighteners, iPads, TVs) then keep behind a little money for the follow up sale day, Cyber Monday. You can also find some great deals on clothing and homeware to treat yourself with.
Lots of stores will be getting involved so check out Tesco Direct, Apple, Asda, M&S and Toys R Us, on December 1st, to see what they've got on offer.
Black Friday and Cyber Monday are great because they come before Christmas. The January sales can feel a little pointless – how many times have you bought rubbish you don't need because you got everything you wanted for Christmas?
So, will you be doing your Christmas shopping early this year and taking advantage of the deals? Or keeping it traditional and running around like a headless chicken on Christmas Eve?