Taste Panel Competition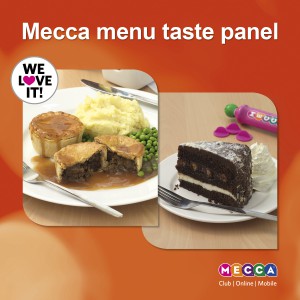 Do you fancy having your say as to what food we serve in our Mecca Clubs? Well now you can with our brilliant new Taste Panel competition.
We change our menu twice a year and we're about to work out what warming favourites and fantastic new tastes we should add to our Winter menu. That's where you come in!
We want to take you and a friend to our development kitchen in Sale to taste some of our new recipes and let us know what you think. Only the cream of the crop will make it onto the new Mecca menu,
The prize includes an all expense paid trip to Manchester, a visit to our development kitchen to sample our new menu, a night out at Mecca Hyde Road in Manchester and your travel, accommodation, food, champagne and bingo! You must be able to travel on Wednesday 9th and Thursday 10th July.
To enter all you have to do is register on the taste panel at http://bit.ly/1icyGLA or by emailing meccamenucompetition@rank.com. Deadline for entries is 30th June and the winners will be picked on 1st July.
What would you like to see on our new menu? Let us know below.