Top Summer Deals You Need to Redeem Right Now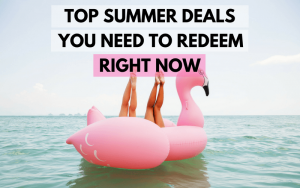 Summer is well and truly here, which means one thing: lots of deals! That's right – you needn't wait until Black Friday to get your fill of the best online bargains. Better yet, browse through our some of our favourite summer deals, below, to save yourself a whole heap of time – and wonga.
You can thank us later…
TUI save £50 on holidays
Planning a last minute summer holiday? Be sure to take advantage of this fabulous offer from TUI. Using discount code HOT50 at the checkout, you can save yourself £50 when you spend more than £750 on a holiday departing between now and the 20th July 2018. What are you waiting for? Go and grab your passport!
Visit the TUI website for more information.
Nando's free quarter chicken
If you love Nando's, you will definitely want to bag this sizzling summer offer. To redeem it, simply pick your favourite Nando's sauce from the supermarket and check it for a special promotional label (the code is on the cap of the bottle). Once you've got it, enter the code on the Nando's website before 31st August and you will receive an e-voucher. You can then use it in any Nando's restaurant when you spend over £5 to redeem your quarter chicken or starter deal – easy!
See here for ways to redeem your code.
M&S £5 voucher for a £35 spend
It feels nice to be nice, and now, thanks to M&S, there is a reward for do-goodery. In stores across the UK, customers can get a cheeky £5 discount when they spend more than £35, simply by recycling their old M&S clothes. All it takes is a visit to your local Oxfam store and you'll be given a code to take into M&S with you.
For more Marks & Spencer offers, take a look here. Or, if you'd like to recycle your old clothes with other retail stores, browse Be Clever with Your Cash.
£10 off Travelodge bookings
If the sound of a staycation has you intrigued but you're concerned about the cost, then worry no more. Until 16th July, visitors to the Travelodge website can enjoy a cool £10 discount when they upgrade to a SuperRoom. Simply use the code STAYSUPER at the checkout to redeem your savings and enjoy a luxury room for a snip of the price!
Here's how you can redeem your voucher.
First Choice £75 off Balearic Island holidays
Sun, sea, sand and… savings! Yep – with First Choice, you can receive a huge £75 discount when you enter the code SUN75 at the checkout. All you have to do is pick a holiday to one of the sunny Balearic Islands. From the white sand beaches of Menorca to the fist-pumping island of Ibiza, there's plenty to choose from.
Visit the First Choice website for more information.
Free-range BBQ meat hamper £30 (usually £47)
Do you know what this gorgeous weather calls for? A barbeque! And with this great offer from meat supplier, Heartier, you can enjoy a free-range outdoor-bred BBQ hamper for just £30 (usually £47). Within this luxury hamper, you'll get British T-bone, flat iron and gammon steaks, along with pork chops and burgers. Simply enter the code MSEWORLD on the Heartier website to bag yourself a juicy bargain. But be quick – offer expires on 16th July!
Take a look at the Money Saving Expert site to see more.
Nike extra 20% off online sale items
Summer is the perfect time to get yourself in shape, and with Nike's online summer deal you can do it in style! Use the promo code 20EXTRA and grab yourself a fabulous 20% off clothing; simply pick your favourite item from the 'up to 30% off' sale and wait for your fresh new gear to come through the door. Oh, and there's free delivery included too – sweet, right? Offer ends 10th July.
You can find the offer code across the entire Nike UK site.
Which deal will you be taking advantage of this summer? Let us know in the comments, below!