Va Va June Car Winners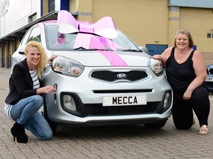 Back in June we ran a promotion to give away a Kia Picanto 1 as part of a prize draw for our existing customers and another one for new customers that joined us that month.
On Monday we brought our lucky winners, Jo and Karin, to Mecca Dagenham to see just how pleased they are with their winnings. As you can see from the photo, we couldn't get the smiles off their faces all day!
Karin said:
My car died earlier this year so this couldn't have come along at a better time. I'm really pleased.
Jo added:
I've always had to share the car with my husband so this is going to make such a difference. The kids have already decided it's going to be called Beauty!
Congratulations ladies! Hope you enjoy your brand new cars.