What is Mecca Fest, The Prizes & How to get involved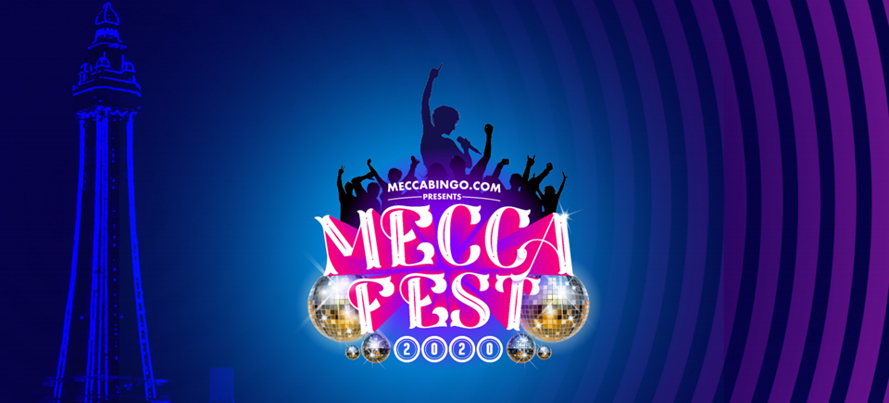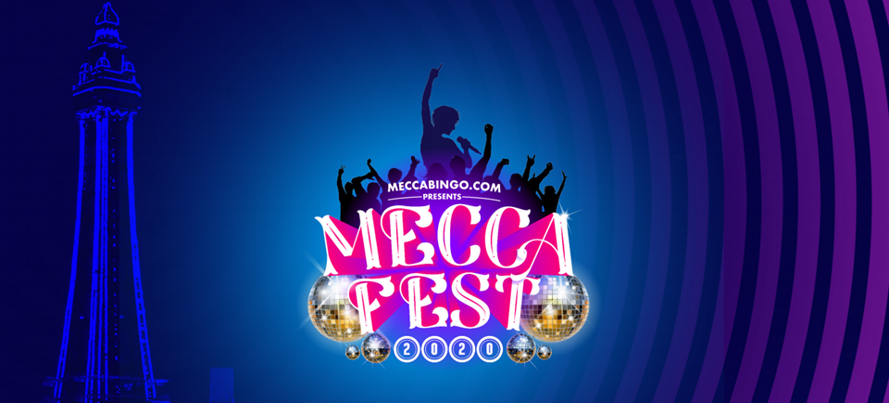 Proudly Presenting Mecca Fest!
We are so excited to tell you about Mecca Fest – the most exciting bingo party EVER! Working with the one and only Joe Swash, we're planning a star-studded night of entertainment with £100,000 of bingo prizes to be won.
So what is Mecca Fest?
Mecca Fest is a huge party for meccabingo.com members. We've invited a tonne of our celeb friends to hang out with us during the night while arranging entertainment from some incredible music acts. We've also got one of the UK's best-know DJs on the decks, plus an eye-popping finale.
When and where is Mecca Fest?
Mecca Fest is on Saturday 30th May 2020. It will be held in Blackpool Tower's iconic Ballroom. Doors open at 5pm and the lights come on at midnight.
How do I get tickets for Mecca Fest?
You can't buy tickets for Mecca Fest, but you can win them! Pairs of tickets will be given away from 31st of January. To be in with a chance of winning, opt in to the prize draw on site. This will get you one entry to this week's draw. Then, every £10 you spend playing bingo will get you 3 additional entries, and every £10 you spend on slots and other games will get you 1 additional entry.
How do I know I've won tickets?
You can watch the prize draws on site at every Friday. Winners will also be contacted via email and sent a special Eventbrite link with code to retrieve their tickets.
What can I win at Mecca Fest?
Everyone who comes to Mecca Fest will leave with a prize! We have £100,000 of bingo prizes to give away, plus tonnes of fun spot prizes and souvenirs.
Who are the celebrities at Mecca Fest?
All will be revealed in good time! What would we talk about for the next 4 months if we gave you all the good stuff in one go? There are plenty of clues on social media about who will be there on the night. Search for Mecca Fest and see what you can see!
Remind me again how to get tickets
Get over to the Mecca Fest page and opt in!
We'll be revealing more info over the coming weeks so stay tuned to find out more!
Mecca Fest FAQ's
WHAT IS MECCA FEST? Mecca Fest is the celebration of bingo from Meccabingo.com. A star-studded night with bingo. live music, entertainment, celebs and £100,000 of prizes. This incredible event is a money can't buy event!

WHEN IS MECCA FEST? Mecca Fest is taking place on Saturday 30th May 2020

WHERE IS MECCA FEST? Mecca Fest is taking place in the iconic Blackpool Tower Ballroom. The address is The Blackpool Tower, The Promenade, Blackpool, FY1 4BJ.

WHAT TIME DOES IT START & FINISH? Doors will open at 17.00 and the event will finish by 00.45.

TICKETS & VENUE INFO

HOW DO I WIN TICKETS? From 31st January to the 30th April visit Meccabingo.com where there will be opportunities to win tickets for customers on Meccabingo.com. From 31st January to 28th February there will be a Mecca Fest Prize draw, where customers will opt in and stake and there will be a draw each Friday. From 29th February to 31st March, the Mecca Fest Winner Spinner will be lvie and you can play at Meccabingo.com for free spin and one person will win each day. From 2nd March to 30th April, Monday to Thursday each week there will be a Mecca Fest bingo game in the Main Event Bingo Room.
You can also visit a local Mecca Bingo club and play the Mecca Fest game between 24th February and 19th April 2020.

CAN I ONLY WIN TWO TICKETS? Yes, tickets are being won in pairs up to a maximum of 6 tickets ( 3 pairs). Visit www.meccafest.co.uk for full ticket terms and conditions.

CAN I REFUND OR EXCHANGE MY TICKET? No, tickets are for winners only. They cannot be sold or refunded for any monetary value. They can also not be put in another person's name.

HOW DO I CLAIM MY TICKET? If you have won, you will be notified via email. Within the email there will be instructions of how to claim which will include a link and a unique ticket code. You will need to claim via Eventbrite within 14 days of email notification.

WHAT DOES MY TICKET INCLUDE? You ticket includes access for you and a guest to the event, one complimentary drink per guest, £30 per head towards your travel costs which will be credited to your Meccabingo.com account, a local twin or double hotel room (based on two sharing). Hotel rooms will be booked on your behalf and hotels and or rooms cannot be swapped once booked.
Optional coach transport will be available from the venue to the hotel at the end of the night.

IS THERE A MINIMUM AGE FOR ENTRY? DO I NEED TO BRING ID? You and your guest must be over the age of 18. ID will be checked by security on entry, anyone without ID can be refused entry.

WILL THERE BE DISABLED ACCESS? The Blackpool Tower building can accommodate all guests with a disability, with the exception of guests using mobility scooters. However, complimentary wheelchairs are available. There are six steps to the entrance of the Ballroom, but a chair lift is available for wheelchair users. There are accessible toilets.
Unfortunately, the age of the building precludes wheelchair access to the balconies.

CAN I BRING FOOD & DRINK INTO THE EVENT? Food and drink stations will be available within the event for you to purchase and your discouraged to bring your own food. No drinks will be allowed to be taken into the venue and your bag may be searched by security.

IS THERE PARKING AT THE VENUE? There is no car park at Blackpool Tower Ballroom. However, there are a number of nearby public car parks, please note these will charge. For more information visit https://support.theblackpooltower.com/hc/en-us/articles/115002774132-Does-The-Blackpool-Tower-have-a-car-park-

IS THERE ANYWHERE TO LEAVE/STORE LUGGAGE? There will be a cloakroom available.

WHAT FOOD & DRINK WILL BE AVAILABLE? There will be a variety of food and drink stations available to be purchased within the venue.

IS THERE A BAR? Yes the bar will be serving all popular drinks, please note this is a paid bar. Prices for a pint of beer start from £3.85, a glass of wine from £4.25 and spirits from £3.20.

FILMING & PHOTOGRAPHY
CAN I FILM/TAKE PICTURES? Yes, you are welcome to take pictures or film within the event as much as you like, provided you do not plan to use anything for commercial purposes. However, if you are going to film other people, we suggest you get their permission first.

WHAT HAPPENS TO THE PICTURES TAKEN AT THE EVENT? By entering the event you agree to grant Meccabingo.com permission to use your image in any publicity, marketing or promotional materials. Please refer to full ticket terms and conditions.

TRAVEL
HOW DO I GET TO THE VENUE? You will be responsible for getting yourself to Blackpool and to your accommodation and the venue for the event start time.
You will be given £30 per head for transport which will be credited to your meccabingo.com account.
We will be running a free shuttle bus from Blackpool Tower Ballroom from 23.30 to 00.45 dropping off at all hotels.

HOW DO I GET TO BLACKPOOL BY TRAIN? The best railway stations to reach Blackpool is Blackpool North. For train times, information and tickets, visit https://www.northernrailway.co.uk/stations/BPN. Do book early to get the best available prices and if using a railcard do not forget to bring it with you along with your ticket.

CAN I GET THERE BY COACH OR BUS? National Express runs services from various location to Blackpool, find more information here – https://www.nationalexpress.com/en/destinations/blackpool

ACCOMMODATION
DOES MY TICKET INCLUDE TRAVEL & ACCOMMODATION? All Ticket holders shall be provided with a hotel room and a contribution towards the costs of travel. The Organiser will book the hotel rooms in advance and You will be required to share a room with your guest. A member of the Mecca Team will be in contact from February to arrange your hotel room.
There is no option to choose the hotel or Your room. Your Meccabingo.com account will be credited prior to the date of the Event with the sum of £60, which is a contribution towards the transportation costs incurred by You and Your guest in attending the Event.
WHERE CAN I STAY? You will be allocated a hotel room, which cannot be exchanged.
There will be specific hotels allocated which you can't swap but we will do our best to accommodate your needs. Please let us know if you need an accessible room.
CONTACT
WHO DO I GET IN TOUCH WITH IF I HAVE FURTHER QUESTIONS? Reach out to Mecca customer service by emailing support@meccabingo.com