Winter Warmers – Classic Hot Toddy Recipe
A classic hot toddy is perfect for this time of year, especially if you've been feeling under the weather.
You'll most certainly have the required ingredients at home – and you really don't need much to make the delicious drink.
Ward off those winter chills and embrace the warmth from this comforting hug in a mug!
Here's a super simple recipe for you. So, why not give it a go?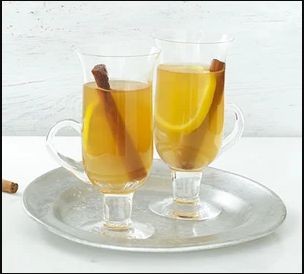 Classic Hot Toddy
Difficulty: Easy
Warm up with a hot toddy. The combination of whisky, honey, lemon, cinnamon and cloves really packs a punch and is great for entertaining in winter.
Ingredients
50ml whisky

3 tsp honey

1 cinnamon stick , snapped in half

1 lemon , half juiced and half sliced

2 cloves
Directions
Whisk the whisky and honey together and split between 2 heatproof glasses. Add half of the cinnamon stick to each, then top up with 200ml boiling water.
Add a splash of lemon juice to each, then taste and add more to your preference. Finish each with a slice of lemon, studded with a clove, and serve immediately.
Make sure you come back next Friday for another Winter warmer's recipe.