Ben Haenow Answers Your Questions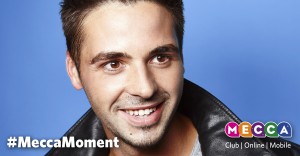 We were super excited to get our hands on the very lovely The X Factor winner, Ben Haenow. We gave him a good grilling about his future plans and then posed some of your questions to him.
X Factor tour – are you excited?
Yeah! I'm super excited. That's what it's all about for me now. It's one thing to be in a studio playing out to people's TV but it's another to be on stage playing arenas to the people that have been supporting us. I can't wait.
How did it feel at the final when you first walked out to 10,000 people?
When you're doing the rehearsals and stuff and you look out and see all those empty chairs, you do think 'ooooh that's a lot of seats'. So to go out on that stage later on to perform it was like 'OMG that's a lot of people out there.'
It was a strange thing but the energy and the roar of the crowd… it just felt incredible, and that really helps you up on stage.
You're gonna be headlining The X Factor tour…
Even that sounds weird. But really I'm just going to be going on stage and having a laugh with all my friends.
Are you all really friends?
Yeah man of course. We were all having such a laugh and we all felt privileged to be on the show and now on the tour. And the tour will be awesome – the parties will definitely be happening in my dressing room too!
What do you think you might sing?
Obviously I'm going to be singing Something I Need, I'd like to sing Come Together and loads of others. We won't know until the end of Jan exactly what we are singing so you'll have to wait and see.
@CharKazandi – What was your highlight of the experience?
Aside from getting to release and perform the Winner's single, I think it was meeting all the people. There were soooo many highlights there really were. I mean singing on stage with Ed Sheeran is still not real, winning the show and releasing the single and meeting all the people along the way have been my top three moments!
@5sos_17_ – What convinced you to audition for The X Factor?
It was actually a little ginger mate of mine from work called Alfie Bradford, he actually filled my details in and sent it off and I got an email saying 'We'd like to invite you down' so I owe it all to him really. I didn't know he was going to enter me into the competition, people had said it to me about entering for a few years but I just didn't have the confidence but he did it.
@RachaelOCM – Who's the one person you would like to do a song with?
Oooh good question. I think having sung with Ed Sheeran and spending a little bit of time with him – he is such a cool guy, and I think what he does is incredible and I think his song writing is amazing so I would love to write with him. But maybe in the New Year, if he's up for a chat or maybe just wants to chill out with a Nandos then that would be cool.
@ReeceMyPizza – What was going through your head before you were announced as winner?
Nothing, absolutely nothing, I was just panicking thinking that I hadn't won it, I was petrified. Getting as far as me and Fleur did was a life changing experience anyway, if anything it would have been a great story to tell people. I can't really remember it at all.
@NicholPichardo – What's your favourite movie?
I like old movies like Smokey And The Bandit, my favourite film I think is Oh Brother, Where Art Thou? Because it's really well written and the soundtrack is amazing.
@SteveOliver76 – Surely a cover of Don't Dream It's Over is on the cards?
Yeah many people have said it, and I'd love to but I think I owe it to myself to just release a version of it. Stay tuned for that one! That's lots of songs with hey now in – maybe I'll do an album of Hey Now songs in the future – who knows!
@harrysmyhero_ok – what have you learnt through The X Factor?
I've learnt to be a bit more confident in myself as a singer. I think from the beginning my confidence was knocked from doing the pubs and clubs singing but having the backing of people like Simon Cowell has helped my confidence no end, and I can't thank him enough for that. And everyone that voted from the public, they've all stood by me and I can't thank everyone enough for that – it rekindled my passion for music again. Simon said to me at the end, 'You deserve it, you're a great guy and I still don't think you realise how good you are – there's more to come from you.' And to hear that from him is so inspiring.
@KatydancerHoran – Who was your favourite contestant in the house?
Now that's a tough one. I'm gonna have to say Jake really – he was my best mate in the house and he's a lovely, lovely bloke. We really clicked in the house and he's like a brother to me now.
@emma_andrews86 – What are you most looking forward to doing after being on the show?
Seeing my family, doing the tour and then getting my own stuff down really. Getting to write the album and then release something next year is what I can't wait to do.
@redsfantl – Have you ever been to America? If so where?
I went to LA when I went to Simon Cowell's house for Judges' Houses. That was the first time I had ever been anywhere like that. We didn't have long out there but we popped to Venice Beach and then the Hollywood Walk of Fame, and of course we went to see One Direction at the Rose Bowl.
@chubbz_21 – Did you like your Winner's single when you first heard it?
Yeah I loved it as soon as I heard it. It's an anthemic rock song, One Republic tweeted about me doing the song, which was incredible.
@pflaherty28 – Who did you think would win out of the Final 16?
Do you know what who I had pinned for a win? It was Paul Akister, he'd come back for that second time, was looking amazing, sounding incredible and was a lovely, lovely bloke. I think people were saying his personality wasn't coming across but I shared a room with the bloke and he was hilarious! I would love to work with him in the future if there's any chance of that.
@ReeceCameron1 – what kind of music would you like on an album when you release one?
I'd like it to be a mixture of an early Maroon 5 when they had that funky rock pop sound, meets Paulo Nutini.
Theresa Hopkins – What would your advice be for someone scared to enter The X Factor?
Don't be scared to try it – I was petrified and look what's happened to me! Embrace the fear and go for it. And be nice to everyone along the way! I'm really really grateful to everybody that I've met whether it's fans or crew.
Amanda Martin – What will you buy your Nonna Rita when you get your first pay cheque, as she's your biggest fan?
Probably a new set of dishes, because she's made me a lot of food. I think I have most of hers round mine from where I took them home with dinners on to heat up!
What has 2015 got in store for you?
In January we talk about the album, then February we have The X Factor tour, and then hopefully after that I can record the album, but I am itching to get something amazing out. I can't wait to get gigging either – whatever happened it's all going to be very exciting!
Brilliant, well done Ben. If you think you've got what it takes to be top of the pops too why not enter our Star Search?