Bingo Chat Room Guide: bingo chat tips and etiquette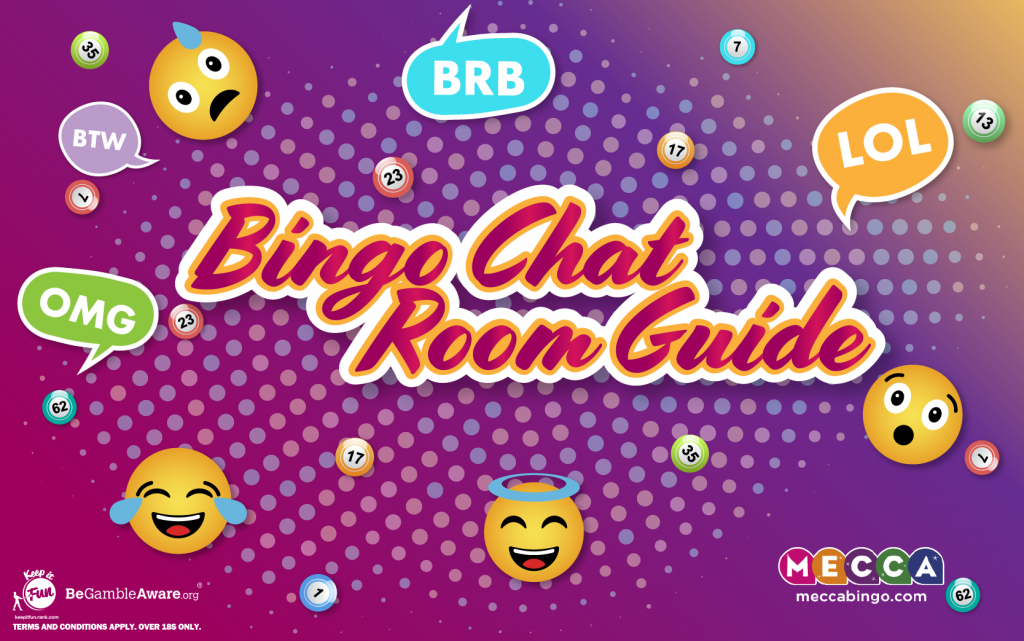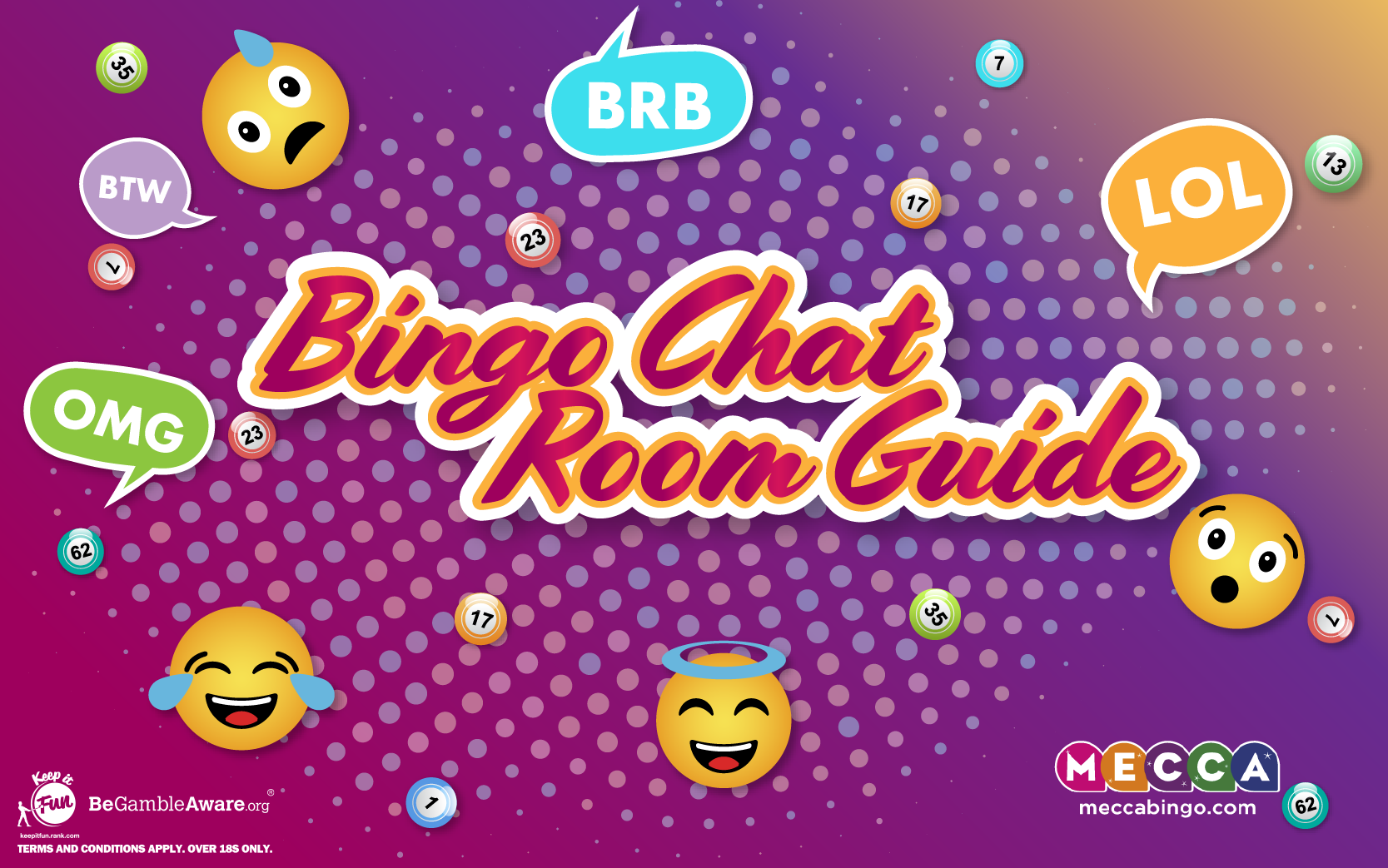 One of the best things about bingo is playing with friends, cheering them on when they win, and have a giggle as you play. That's true whether you're down at your local Mecca Bingo hall or playing online – thanks to our online bingo chat rooms.
We've rounded up everything you need to know about the online chat in our bingo rooms, from picking the perfect username to joining in and having fun. So, let's get started!
If you're completely new to online bingo, you'll want to check out our full guide on getting started.
Bingo chat rooms: What to expect
Every time you join a bingo room from the bingo lobby, you'll see the bingo room pop-up. On the left, you'll find game info, purchasing options, tickets and what balls are being called. And on the right is our chat room!
The chat room itself is easy to use. Each player has their own username, which you'll see on the left, with messages just to the right. To get involved, just type in the box below or hit the smiley face icon to add an emoji to your message!
If you see a user with 'CH' before their name, that's one of our friendly chat hosts – you can meet the whole team here. Our hosts are there to chat with you, make sure everyone follows the chat guidelines and introduce chat games and offers – giving you extra chances to grab a win!
How to pick a username
Before you join a chat room, you'll be asked to pick a username. It can be anything, we just ask that you don't include rude words or try to impersonate other people in the chat. Apart from that, the choice is yours!
Struggling to think of anything? Fear not, we've created a fun bingo username generator to help you find your perfect name: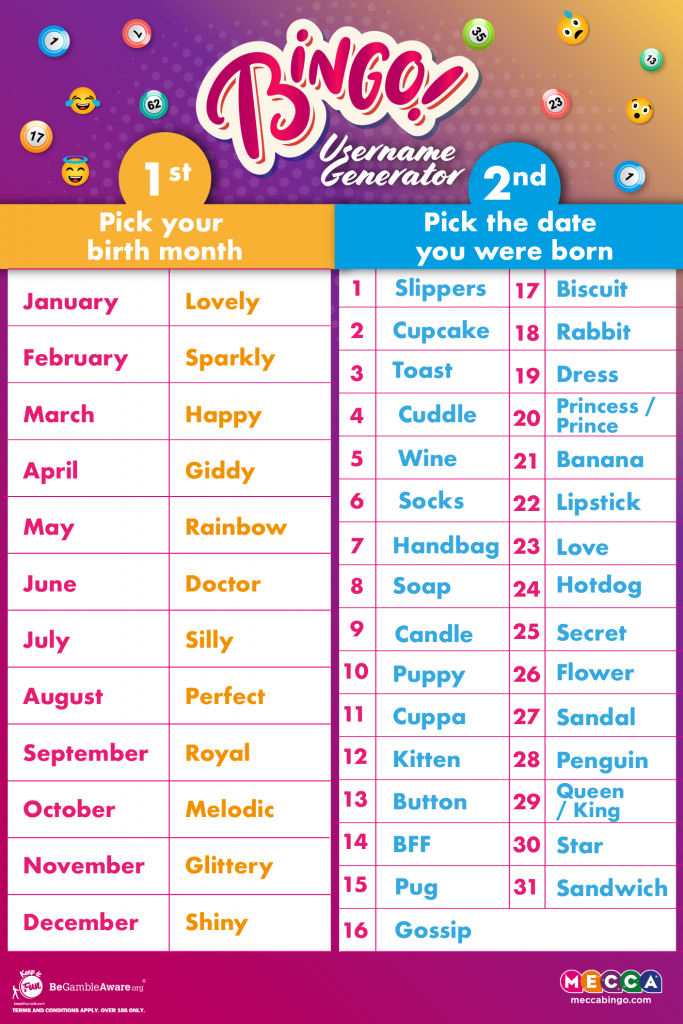 Chat room etiquette: Dos and don'ts
Our chat rooms are there so we can all have some fun, have a chat and enjoy playing bingo together. So with that in mind, we have some tips to make sure everyone can enjoy themselves.
If you're totally new to bingo chat, you might find a few of the abbreviations a little confusing – have a look at our Bingo Lingo blog to guide you through all the acronyms from 1TG to WDW.
Below we'll take you through the basic etiquette for how to act in a bingo chat room. For the full lowdown, you can also read our guide to bingo etiquette.
Do
Do: Say hello! If you're new, don't be shy – our Chat Hosts can't wait to welcome you into the fold!
Do: Be nice! Mum always said; 'if you have nothing nice to say, don't say anything at all'. That also applies in chat rooms. Remember, the nicer you are to people, the nicer they'll be to you.
Do: Celebrate when you win!
Do: Congratulate other players.
Do: Tell us how your day is going.
Do: Only chat in English please. While your language skills are really cool, we want everyone to feel included.
Don't
Don't: Be rude or negative to other players – our community is supportive and friendly. We know it can be disappointing when you don't win, but please don't take it out on your roomies! And no one likes 'same winner' comments.
Don't: Spam! Sometimes it's easy to get carried away, especially if you're excited, but please leave space for everyone else to talk too!
Don't: Insult, harass, bully or argue with other roomies. If you do, you'll be banned from the chat.
Don't: Use a false identity or impersonate other roomies. We like you just the way you are!
Don't: Swear or use indecent or sexual language – it can easily embarrass and upset your fellow roomies. And it goes without saying, please choose a tasteful chat name.
Don't: Swear or use Caps Lock. When someone types at you in all caps – IT CAN FEEL LIKE YOU'RE BEING SHOUTED AT!
Don't: Discriminate. We won't tolerate any kind of discrimination.
Don't: Advertise or promote other companies in the chat.
Don't: Ask to be given money or harass our Chat Hosts.
And remember, any free bingo rooms or free game sessions operate a zero tolerance policy of these rules. Any players violating them will be removed by the Chat Host immediately, without warning.
Our Chat Hosts
The Chat Hosts are there to help you have fun, help you out if needed and even run the occasional chat game with the chance to win a little something extra. Find out more about our Hosts here.
So, remember these points when using the online chat:
Our Chat Hosts are there to help, so please respect them and remember that their decisions are final and not up for debate.
Chat Hosts award chat game winners based on what they see on their screens.
Chat Hosts have the right to remove chat for any offence with or without warning, although they usually do give some warning first. Beware though – they'll immediately remove chat if you use abusive or offensive language or bully your fellow roomies.
Our Chat Hosts can take away your chat privileges if you keep breaking the rules and ignore our advice and warnings.
Everyone comes to Mecca to have a good time, so you'll be in good company in our chat rooms. Have fun, make friends and take part in the games. You'll love being part of the community at Meccabingo.com!