Calling All BGT Fans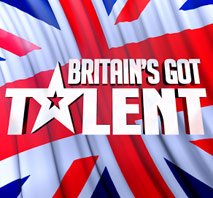 The clocks have sprung forwards, the sun has started shining and the smell of barbeques is in the air.  This could only mean one thing…
The start of summer, right?
Wrong! The start of Britain's Got Talent – the nation's favourite talent show. Unless you've been hiding under a rock somewhere for the past few weeks I bet you've been chatting to your mates, pulling on your onesie, ordering a takeaway and tuning in religiously every Saturday night to watch some of the very best (and very worst) weird and wonderful talent our country has to offer – all hoping to win the public's affection and repeat the success of acts like Attraction, Diversity and Susan Boyle from previous years.
There have been a couple of big changes to the show since it left our screens last year.  One is the introduction of the golden buzzer, which allows each of the judges the chance to vote an act straight through to the live semi-finals. The other is that Alesha Dixon and Simon Cowell have both become parents for the first time…and is it just me, or have we been seeing Simon's softer side since having baby Eric earlier this year?  Or is he just really happy to be reunited with David Walliams again?
2014 looks set to be the biggest and best series yet, and judges Simon Cowell, Amanda Holden, David Walliams and Alesha Dixon have already voted through some amazing acts.  Here at Mecca some of our favourites so far have included the Irish dancing group who shocked us all with their funky twist, the very cute and talented 14 year old schoolboy Bailey McConnell, who every teen girl is bound to fall in love with, and the act that set the chat rooms on fire; Paddy, the salsa dancing granny who still looks amazing in lycra at 79 years old.
This year, for those of you who can't get enough of the show, you can carry on the fun online if you play Britain's Got Talent slots on your mobile or iPad only at Meccabingo.mobi.  This 5-reel, 20-line slot has been especially themed around the show and features a bonus round and free spin feature where you can unlock wild symbols. It's a fast, fun and furious game that will keep you entertained for hours on end. It's a bit like taking part in the show, but without having to perform in front of hundreds of people and get slated by the judges of course!
As always with Mecca you also have the chance to win a serious amount of money; sounds like the perfect Saturday night in to me. You won't find this game anywhere else on your mobile, because it's exclusive to Mecca Bingo until the end of May.
So, whilst we don't know who the winner of Britain's Got Talent 2014 is going to be just yet, we do know what we're going to be doing with our evenings once the kids are in bed for the rest of May!