Ever had sex on the beach?
Most men will have you believe cocktails don't look, or taste, manly enough. What a load of malarkey.
If you ask us, everyone who treats themselves to a tipple now and then, should enjoy a cocktail just as much.
Cocktails are as smooth and tasty as they are strong. If cocktails were people, they would be the life of the party, a pure delight that entertains with strength, confidence and flare. And let's not forget – they look incredible. Making grand entrances to parties across the UK, cocktails are colourful, bright and desirable, always standing out amongst a crowd.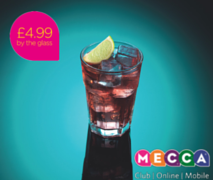 Even their names are the envy of all other drinks. Think Cheeky Wimto, one of Mecca Bingo's new tasty delights made with WKD Blue and Cockburns Ruby Port, not to mention a Woo Woo (we'll let your imagination run wild about the contents of this one).
The earliest-known use of the word "cocktail" in print, contrary to popular belief, was discovered in a 1798 English newspaper and not an American one, The Telegraph states. So Brits can take all the credit for inventing the cocktail. We'll drink to that!
Not only do cocktails taste heavenly but they are extremely fun to make, too. You can be as inventive as you like when creating your own cocktail concoction. We're pretty sure, like Tom Cruise in the movie "Cocktail", you've thought about escaping to a tropical island to indulge in some seaside activity. But if you can't then sex on the beach is the next best thing! Then again, maybe that's just us.
Making your own cocktails, however, takes lots of effort so let us take care of the hard graft. Come and be the life of the party at our house and give one of our new cocktails a try. Do you fancy a taste of Cuba with a mojito or is a classic cosmopolitan more your style?
And if you haven't yet had sex on the beach we recommend coming to our house and giving it a go. We won't tell if you don't.
RT and Follow Twitter competition:
How to enter on Twitter:
1)      RT and follow @MeccaBingo by 11:59pm on 13th November.
2)      10 Winners will be selected at random and notified via Twitter by Friday, 14th November.
3)      Winners can eat at the Mecca Bingo club of their choosing.
4)      Oh, and don't forget to enjoy your Mecca Treat.
For full T&Cs click here: http://bit.ly/XHhogj