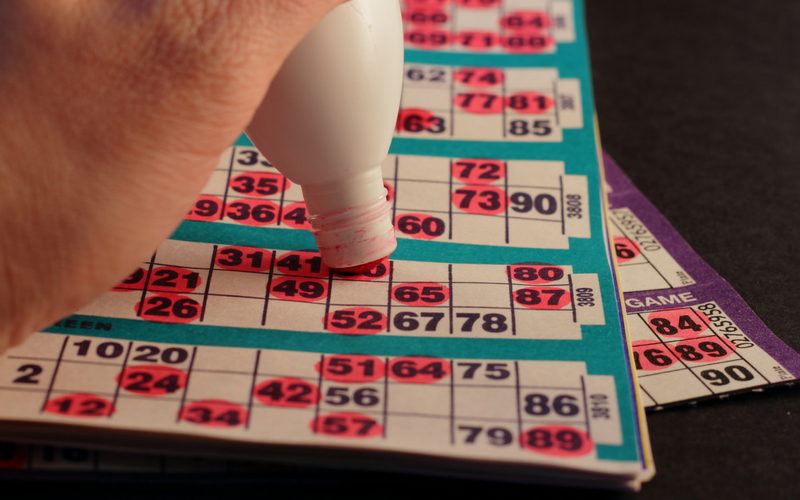 So, you've planned a Mecca Bingo night out and everything is ready to go; you have your dabber and have practised yelling 'BINGO!' in preparation, but what else should you expect?
Find out all the Mecca Bingo rules before your first trip to a bingo club, here.
Bingo basics
You've made it to your local bingo club, now it's time to join the Mecca family! Have a nice chat with one of friendly team members at the desk, tell them you're a newcomer and would like to join a game and they will look to add you as a Mecca member.
Once you've done this, they will provide you with both a membership card and welcome pack detailing all you need to know about being a member. This will only take a few minutes, but you might want to arrive around ten-minutes before your game starts so you have plenty of time.
Now you're signed up you can get ready for your game! Firstly, you will have to buy yourself a round of tickets (your Mecca friends will probably call it a 'book'). Each ticket has 9×3 grids, with numbers running from 1 through 90. When the game begins, the caller or digital board will pick a number at random.
Sometimes the most daunting aspect of bingo for newcomers is keeping up with the pace of the game; however, if you pay close attention to the number being called, you should be a seasoned dabbing pro in no time.
Don't worry if there is anything you're unsure about; our friendly team will be more than happy to help you learn the ropes.
When you spot one a number on your card, mark it with your dabber. If you have all the numbers in a single line, two lines or full house (all the numbers in the grid), you've won!
What to do if you win
At this point, it's up to the player to stop the game before the next number is called. You can do this by shouting 'bingo' or 'house'. It's important to make this as clear as possible, so you attract the attention of the caller.
Try not to make a false claim, this can slow down the session and will irritate other players.  Don't worry though, it happens to the most seasoned bingo player.  Your claim will be checked and, once it has been verified, you can get ready to collect your winnings!
Don't attempt to alter a bingo card
This one should be a given, but you would be surprised what players have tried in the past! It's not worth trying to cheat: all our staff are extremely experienced and have seen it all. The rules are there for a reason :).
What to wear
if you've never visited a bingo hall before, you might be wondering whether there is a dress code. If you're visiting a Mecca Bingo hall, the answer is no: you can dress however you want! In fact, you will find many people dressed differently: some people want to make a big night of it, so are in smart attire, while others are more casual, sporting jeans and tees.
One thing to bear in mind is that you could be sat down for some time, so wear something that you feel comfortable in.
Bingo Etiquette Top Tips
Here are some short etiquette takeaways for when you do visit a bingo hall:
Watch out for lucky seats. Many regulars are superstitious and will have a favoured place to sit. Just be courteous and choose another spot.
It's an unwritten rule that players should remain quiet during sessions. If you do speak up at inopportune times, you may distract other players around you. Remember, it's always good to make a good first impression…
Respect the caller. Occasionally, players have been known to take their frustration out on the caller. Remember, this is a game of fun, and the bingo staff are just doing their job. Respect the host and you won't go too far wrong.
Don't be a parrot. Some players like to repeat the numbers as they are called, but the truth is that this is distracting for other players.
Only smoke in the designated areas.
Finally, have fun!
Now you know all the basic rules for our bingo clubs and chat rooms, why not visit us in-house? We have Mecca Bingo halls all over the UK. Alternatively, join one of our friendly chat rooms and play online bingo today!
Check out our complete bingo guide and find out all you need to know about how to play bingo with Mecca!