Your First Visit to Mecca Bingo: What You Need to Know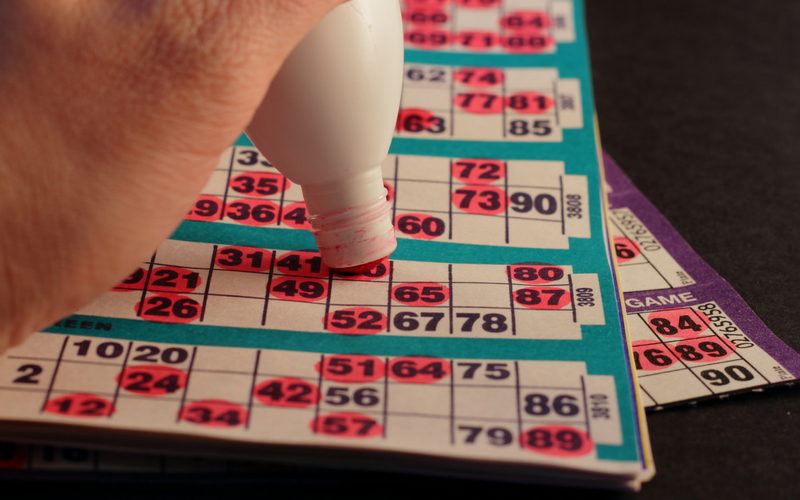 So, you've planned a Mecca Bingo night out and everything is ready to go; you have your dabber and have practised yelling 'BINGO!' in preparation, but what else should you expect?
Find out all the Mecca Bingo rules before your first trip to a bingo club, here.
Bingo basics
You've made it to your local bingo club, now it's time to join Mecca bingo and become part of the family! Have a nice chat with one of the friendly team members at the desk, tell them you're a newcomer and would like to join a game and they will set you up with your Mecca bingo membership.
Once you've done this, they will provide you with both a membership card and welcome pack detailing all you need to know about being a member. This will only take a few minutes, but you might want to arrive around ten-minutes before your game starts so you have plenty of time.
Now you've done your bingo registration, you can get ready for your game! Firstly, you will have to buy yourself a round of tickets (your Mecca friends will probably call it a 'book'). Each ticket has 9×3 grids, with numbers running from 1 through 90. When the game begins, the caller or digital board will pick a number at random.
Sometimes the most daunting aspect of bingo for newcomers is keeping up with the pace of the game; however, if you pay close attention to the number being called, you should be a seasoned dabbing pro in no time.
Don't worry if there is anything you're unsure about; our friendly team will be more than happy to help you learn the ropes and bingo rules.
If you're wondering how to win bingo, then you'll be happy to know that it's actually relatively simple. When you spot one a number on your card, mark it with your dabber. If you have all the numbers in a single line, two lines or full house (all the numbers in the grid), you've won!
If you aren't sure on bingo rules then check out our Bingo Rules Guide for Beginners where you will get a whole host of bingo tips and learn more about the game, such as what the average bingo game length is and how to understand the difference between a one line, two lines and a full house.
What to do if you win
At this point, it's up to the player to stop the game before the next number is called. You can do this by shouting 'bingo' or 'house'. It's important to make this as clear as possible, so you attract the attention of the caller.
Try not to make a false claim, this can slow down the session and will irritate other players. Don't worry though, it happens to even the most seasoned bingo players. Your claim will be checked and, once it has been verified, you can get ready to collect your winnings!
Don't attempt to alter a bingo card
This one should be a given, but you would be surprised what players have tried in the past! It's not worth trying to cheat: all our staff are extremely experienced and have seen it all. The rules are there for a reason!
What to wear
If you've never visited a bingo hall before, you might be wondering whether there is a dress code. If you're visiting a Mecca Bingo hall, the answer is no: you can dress however you want! In fact, you will find many people dressed differently: some people want to make a big night of it, so are in smart attire, while others are more casual, sporting jeans and tees.
One thing to bear in mind is that you could be sitting down for some time, so wear something that you feel comfortable in.
Bingo Etiquette Top Tips
Here are some short bingo etiquette takeaways and bingo tips for when you do visit a bingo hall:
Watch out for lucky seats. Many regulars are superstitious and will have a favourite place to sit. Just be courteous and choose another spot.
It's an unwritten rule that players should remain quiet during sessions. If you do speak up at inopportune times, you may distract other players around you. Remember, it's always good to make a good first impression…
Respect the caller. Occasionally, players have been known to take their frustration out on the caller. Remember, this is a game of fun, and the bingo staff are just doing their job. Respect the host and you won't go too far wrong.
Don't be a parrot. Some players like to repeat the numbers as they are called, but the truth is that this is distracting for other players.
Only smoke in the designated areas.
Finally, have fun!
The history of Mecca Bingo
The very beginning
The modern entertainment game that we know as bingo today was initially used in the USA as a means of raising funds for charities or other good causes. The game used to be played with beans and was known by Americans as "Bean-Go", which is how it got whittled down to its modern name of "bingo".
Although the history of the game is easily traceable across the states, it's said that the game's roots can be traced all the way back to Italy in the 16th century, where it was played as a form of lottery. The idea then spread around Europe.
Many years down the line, a businessman from New York saw how lucrative bingo could be and he tasked a mathematics professor to create a game with even more cards using a complicated and unique math formula. This resulted in the game only having one winner per round, which was previously pretty hard given that we didn't have computers to help generate things back then.
Bingo comes to the UK
In the early '60s, a man by the name of Eric Morley had been in America at the Miss World show. It was here that he came across the game of bingo and recognised its potential for great things in the UK. Dance halls had been largely empty since the TV had become more popular and he thought it would be a great way to fill them up once again.
Morley saw bingo as a way to re-engage and reconnect the communities in the UK and he started a bingo company called 'Mecca'. This led to the first big trend of bingo that struck the UK and that continues to keep people gripped to this very day.
The late 90's rise of Mecca Bingo
The 1980s was the golden age of bingo in the UK. There were modern, purpose-built bingo halls that sprung up all over the country and it seemed as if the popularity for the game just couldn't be diminished. In fact, even in times as recently as 2006 more people attended bingo halls than attended football games.
Bingo halls are still popular throughout the UK and Mecca Bingo is still proud to bring the game to local communities throughout the country. However, like every other industry, we have also had to adapt to evolving technology.
The rise of online bingo
With new technology came new opportunities and Mecca Bingo didn't take long to create and develop some of the best online bingo games. Most people now play bingo online from the comfort of their own homes and why not? It's super easy to get a Mecca Bingo membership and you can play bingo free from outside influences anywhere that you want, whether that's on your couch, at work or on your commute.
We have some of the most visited bingo sites in the world and we are constantly updating our bingo sites and games to keep up with the needs of our players. We have a plethora of bingo rooms that have the options of 90-ball rooms, 75-ball rooms, and 80-ball rooms. We also have Special Bingo rooms and different bingo games like Emoji Bingo or Britains Got Talent Bingo – the list really is endless.
The Mecca Promise
Mecca Bingo has been renowned for its bingo in the UK for over 70 years and our players mean everything to us. Because we are so fond of our players, we created the Mecca Promise to ensure that they all know how much they mean to us as a company.
We want all of our players to know that they can continue to trust us, just like they have for over half a century. We are one of the best known and well-respected names in the bingo industry and that's because we don't break our promises. We always strive to provide a fun, friendly and safe environment for all of our players to enjoy themselves in. We absolutely value our player's loyalty, and feedback is an essential aspect of how we keep up such a trusting relationship.
As the online bingo game becomes ever more popular, we want our players to know that privacy and security are of the utmost importance. We ensure that all of our players' banking information and personal details are securely stored with the latest security technology. We don't set a limit on how often you can withdraw your funds, but the minimum withdrawal is set at £10. You can withdraw up to £15,000 at once but must speak to our customer service if you would like to withdraw more. We promise to always deal with withdrawals promptly and we will always give our players the option to unsubscribe from marketing materials.
Whether you want to join one of our local clubs or simply play bingo online, Mecca Bingo has an almost endless number of options for you. Join Mecca Bingo and play bingo online today with the UK's most trusted bingo brand.
We're here to help you keep it fun – remember to set your deposit limit. Click here for more details on the safer gambling tools available including reality checks and the ability to take a break from your gaming.