Great British Bake Off – Week Seven Round-up
There was plenty of sugar and a hint of spice in the tent this week, but it definitely wasn't all things nice as the bakers took on Caramel Week.
Yes this tricky sugar treat had even the best of bakers struggling, with Lizzie proclaiming it a 'terrifying week'. But once again, the Bakeoff camaraderie saw us through! Highlights included George's Meghan Trainor reference, Giuseppe cutting liquid, Prue dipping a not-Twix in her tea, Noel unpacking George's bag (and prancing round the tent with some of his clothes!), Giuseppe doing the time announcement in Italian and Noel's quick summaries of each baker. You maybe need to see it to appreciate it…
Signature Bake – Highly Decorative Caramel Tart
With this bake comes the challenge of cooling – if the caramel filling is too hot, your decorations will likely melt! So George, Lizzie and Jürgen decided to make things even more difficult for themselves by using a caramel custard, which takes longer bake and therefore cut down their fridge time… Crystelle tried to kid us (and herself) that hers was 'healthy' by featuring apples and no added sugar (outside the caramel itself). You're fooling no one! Meanwhile Giuseppe compared living with an Italian wife to making caramel, thanks to its temperamental nature, in a move that instantly regretted when reminded that Bakeoff is shown on TV… oops!
Winners: Crystelle
Could do better: George and Jürgen
Technical Challenge – Caramel Biscuit Bars
Do these look and sound suspiciously like a certain famous chocolate bar we all know and love? Yes. Yes they do. But while everyone tip-toed around the name, there was no getting away from how tricky it was to recreate them. Probably easier to just pop down the corner shop, frankly. But the bakers valiantly battled on. We had some good oven-watching as the bakers checked their shortbread biscuits. George and Lizzie struggled to pipe their caramel – with George desperately trying not to swear! At least watching them dress the bars in chocolate looked delightfully chaotic. But it was a tense watch, and I think it's fair to say no one really enjoyed this task, with Crystelle responding to Noel's rallying cry of 'you can do this, kids' with 'Can we really?' ☹
Winners: Jürgen was 2nd and Giuseppe finished 1st – although Paul Hollywood advised against a round of applause…
Could do better: Lizzie landed in 5th place thanks to her messy bars with bubblegum-esque shortbread, and with 'brick-hard toffee' rather than caramel, George came in 6th with his not-quite finished bars
Showstopper – A Caramel-flavoured Dessert with a Sugar-work Dome
Upfront the bakers were instructed to make these creations 'visually exquisite'. And just to make things even more difficult they needed to top them a clear, sphere of hardened, melted sugar. A skill that even Prue admitted most bakers don't have. Wow. Thanks, Judges. 😒
Most of the bakers chose to construct their sugar dome with isomalt, as it tends to come out clearer and more stable than standard sugar. Only George braved using ordinary sugar – would it pay off? Elsewhere Chigs set low expectations upfront by naming his dessert 'Caramel Mistake' as it had mostly gone wrong in every practise attempt. Meanwhile Jürgen's had ten or so layers and 107 steps in the recipe 😱 The real drama, though, came from Crystelle's approximately many attempts at her dome, finally achieving an uncracked sphere with Lizzie's help – but then gave us all a heartache by placing in her original mould without thinking, to which it then stuck… the horrified looks on the other bakers faces said it all. What a 'mare!
Winners: Jürgen
Could do better: George andLizzie – although she finally achieved a level finesse the judges were happy with!
Star Baker = Jürgen 👏
Going Home = George ☹
Next week it's the quarterfinals – waaa! How has that come around so quickly? What will happen in Free-from Week? Tune in to find out!
Feeling inspired to try a bake yourself? Why not try this caramel tart recipe!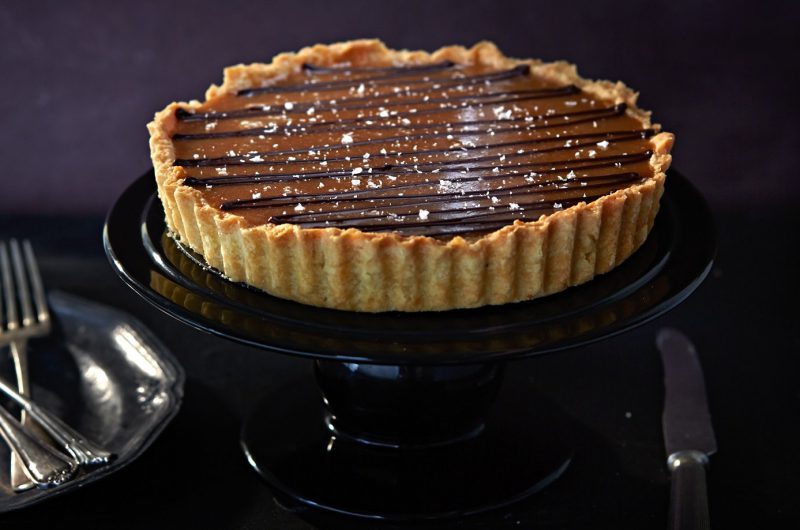 Caramel tart
Course: Dessert
Difficulty: Intermediate
An elegant and sumptuous salted caramel tart with a rich chocolate ganache topping, perfect for a show-stopping dessert. 
Ingredients
For the pastry

190g plain flour, plus extra for dusting

125g chilled unsalted butter, cubed

50g (2oz) caster sugar

1 egg

For the caramel layer

375g caster sugar

100g (3 1/2oz) golden syrup

100g unsalted butter

150ml double cream

pinch of sea salt

For the chocolate layer

100ml (3 1/2fl oz) double cream

150g (5oz) dark chocolate, chopped into small pieces

pinch of sea salt, for the top
Directions
Preheat the oven to gas 4, 180°C, fan 160°C.
In a large bowl, rub together the flour and butter with your fingertips until it resembles breadcrumbs (or use a food processor). Stir in the sugar. Add in the egg and work the mixture with a fork, bringing it together to form a soft dough.
Turn out onto a lightly-floured work surface and shape into a disc. Wrap in clingfilm. Chill for 1 hr.
On a lightly-floured surface, roll out the chilled dough until 5mm thick. Carefully transfer to a 20cm tart tin. Press the dough into the tin, trim the edges and patch up any holes with excess dough. Chill for 30 mins.
Line the tart shell with foil and fill with blind baking weights or dried beans. Bake for 20 mins, remove the weights and foil, bake for a further 5 mins until dry. Leave to cool completely.
For the caramel, in a heavy-bottom saucepan put 120ml water, the sugar and golden syrup. Simmer over a medium heat for 10-15 mins, or until the mixture is a deep brown caramel. Do not stir the mixture as it will result in sugar crystals forming. Take off the heat and add in the butter, cream and a good pinch of salt, if you like. It will splutter and stiffen, so take care. Put back onto a low heat and stir gently until the mixture is smooth. Pour into the shell and leave until completely cool and set.
For the chocolate layer, in a saucepan bring the cream to a boil. Remove from the heat and gradually swirl in the chocolate until melted and fully combined. Drizzle the melted chocolate, back and forth, over the chilled caramel base to form a zigzag pattern. Leave to cool completely, then chill in fridge. One hour before serving take the tart out of the fridge. Sprinkle with a little sea salt just before serving.