It's time for the final Prize Draw!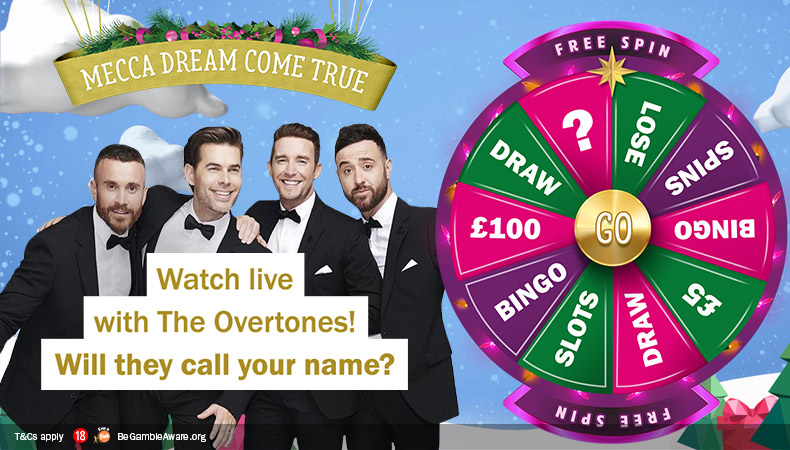 Mecca Dream Come True
Tonight, we have the ultimate Prize Draw finale of Mecca Dream Come True, December edition. Make sure you tune in from 10pm to watch it LIVE. And bringing some fine, festive harmony to this week's draw are celebrity guest hosts… The Overtones!
Singing sensations
During tonight's final Prize Draw, it could be The Overtones calling out your name in perfect four-part harmony! The handsome quartet will be guest hosting our draw later tonight and might even bust a few notes out too. The group have released a staggering 4 albums ranking in the UK top 10 charts since 2010. If you want to indulge in some creamy-smooth baritone, have a listen to the boys' latest Christmas tracks!
Let us Mecca your Christmas!
It's your last chance to win some top prizes this evening. We've got a sleigh-load of stuff to be won and it all must go tonight! You can win some great gadgets – from iPhones to iPads and more. You could be jetting off with Mecca to top holiday destinations, worldwide. There's the chance for you to experience London's West End like never before – including backstage passes and the potential for a walk-on role in a top theatre production! As well as all this, it's your final opportunity to bag one of our top tier prizes, including a full celebrity-style makeover from Gemma Shepard, or a swanky stay at Mecca's Celebrity Hotel! Here are all the juicy details about all this right good stuff.
The after party
On Saturday 21st December, after the snow has settled on our final Prize Draw, we're having a massive wrap party! A bingo party to be exact. Join the action from 5pm and get involved in our epic 5-hour session. We've got a whopping £20,000 up for grabs! You can get your tickets from as little as 10p a pop. Plus, our final 2 games of the session will be worth a massive £1,000 each for a full house win. Get tickets for the final 2 games for only 20p!
Here's everything you need to know about our Wrap Party Bingo session.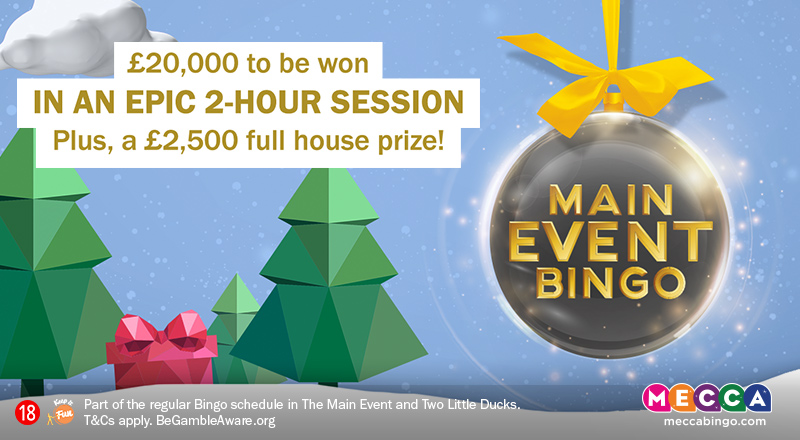 Individual T&Cs apply to separate elements of the promotion. Please see promotions page for full T&Cs.