Mecca Makes Chat Happen!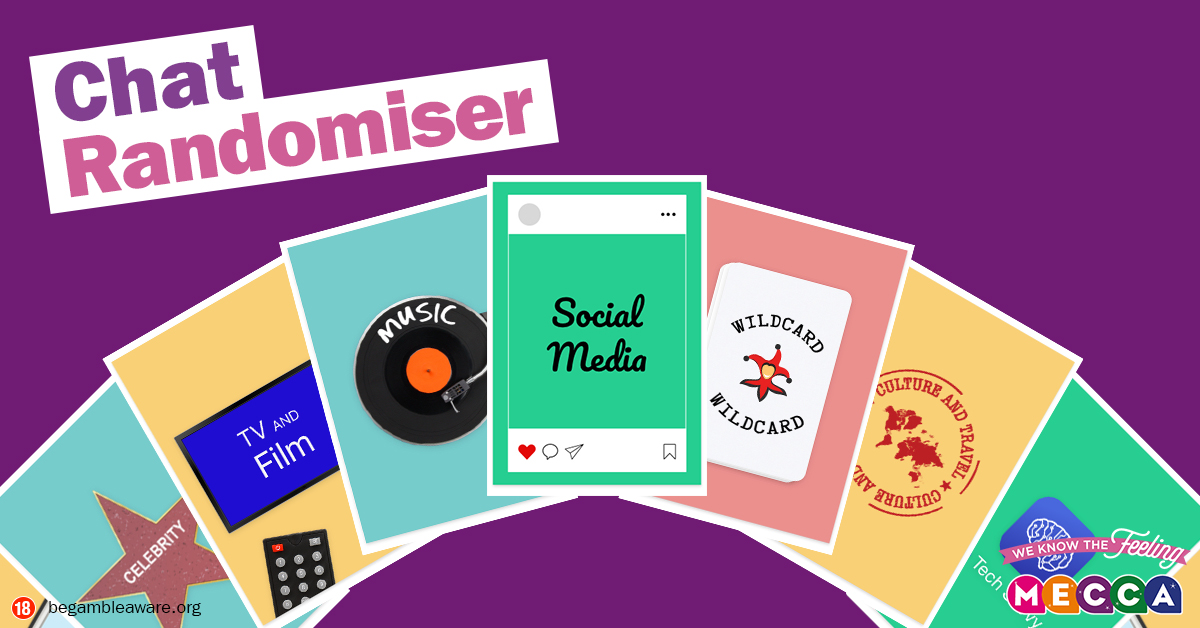 Have you ever struggled for conversation on a first date? Do you cringe at stony silences in taxis? If this has happened to you (and we're betting it probably has), you're not the only one.
Today, we'd rather send a text than make a phone call. Instead of laughs, there are LOLs. Rather than waving, we right-swipe. But fear not… here at Mecca Bingo, we're swooping in with our superhero capes, ready to save you from silence with our Chat Randomiser tool!
How the Chat Randomiser works
Whether you're with friends, relatives, or strangers; at the school gates, in the staff room or with the in-laws, at Mecca HQ we fully embrace having a good chinwag. From chats about boybands to best albums, sporting legends to streaming services, there's plenty to get tongues wagging with our fun new tool.
To get started, just select your current scenario, then watch as the wheel stops on a random topic for you to chat about. You can then click to open the question or shuffle your options for a different conversation starter.
Whether you're a people person or prefer solitude, one thing we can all agree on is that conversation keeps the world turning. With chatter, bonds blossom and points of view are traded, emotions are expressed and issues are ironed out; conversation, in case you need reminding, is a pretty big deal.
Talking points
It's a shame, then, that our most recent Mecca Bingo survey has found that nearly half of Brits (45 per cent) struggle to talk to new people. In fact, more than 26 per cent of our participants preferred digital over direct communication, with many favouring text messaging and FaceTiming over face-to-face chatter.
Our survey also found that family members were the toughest group for Brits to chat to (75 per cent), closely followed by colleagues (53 per cent). Surprisingly, nearly half (47 per cent) said they didn't feel comfortable chatting with their partners.
When we asked 18-24-year-olds, however, we found they struggled to converse even more than older respondents. For instance, more than 44 per cent said they preferred to start conversation via text or social media, and only 22 per cent admitted they felt confident conversing with strangers.
So, next time you're stuck for conversation, why not take the Chat Randomiser out for a spin? You can use it on mobile, too, which makes it super handy to use on the go. What are you waiting for? Next time you're stuck for words, don't panic – the Chat Randomiser is here to help.