Our Top 7 Inspiring Women of Sport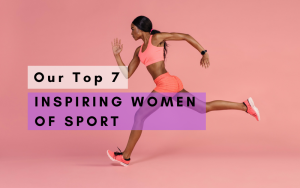 If you weren't already aware, the World Cup is happening right now. And while it may be the biggest event in the world, you needn't feel too much FOMO if it's not for you.
Whether it be the groaning of missed penalties or simply the lack of ladies on the pitch, we think that, this summer, we could do with a healthy dose of female appreciation instead.
So, to get you pumped for the busy summer of sport ahead – and to celebrate the Year of the Woman – we've rounded up our most inspiring females in sport, ever. Let's bring on the girls! #girlpower
Nicola Adams
The first woman to win an Olympic boxing medal.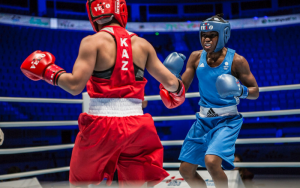 Boxing, a sport which thrives off sweat and bloodthirst, was once considered "just for boys". That all changed when Nicola Adams, a.k.a. the "Lioness", burst onto the scene.
Living up to her nickname, Adams was a veritable beast in the boxing ring, and soon became Commonwealth and European champion. By the time the London Olympics came around in 2012, Adams was the British team's poster champ – an achievement which few females have achieved in years past or present. It was at these games that she would become the first female boxer to take home an Olympic gold and, simultaneously, rewrite the rulebook for women in sport. This girl can!
Serena Williams
The first tennis player – man or woman – to win 23 Grand Slam titles.
Never let anyone tell you what you are not. #untilweallwin @nikewomen #Nike pic.twitter.com/E1NhOmCc8D

— Serena Williams (@serenawilliams) March 5, 2018

Serena Williams has achieved more than most in her life. Not only has she dominated a sport for 20 years, she has also become the first tennis player – man or woman – to win 23 Grand Slam titles over her 20-year reign.
But that's not all. Once the tennis racquet is packed away, Serena makes sure her voice of female empowerment is heard across the globe – you may have spotted her open letter about equal pay, or seen her telling the world "there's no wrong way to be a woman" in Nike's latest TV ads. Whatever she does, one thing is for sure: whether breaking records on the court or speaking up for women around the world, Serena is a real #girlboss.
Simone Biles
Nineteen Olympic and World Championship medals, and just 21 years-old.
The exuberant energy of Biles has taken her from strength to strength since her first national competition at the age of 14. In just seven short years, this pint-sized pocket rocket has won a combined total of 19 Olympic and World Championship medals – and all before her 22nd birthday.
And while she may just 4-foot 8-inches tall, Biles refuses to be overlooked, especially when it comes to the gendered double standards of sport. For instance, when asked to compare herself to male athletes, Simone refused to be a wallflower. Her response, "I am not the next Bolt or Phelps, I am the first Simone Biles", was received with great awe and admiration across the globe, and continues to resonate today.
Dame Kelly Holmes
Became the first Brit in 70 years to receive a double gold medal.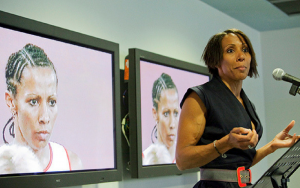 To the surprise of many, not least the champ herself, 2004 was a good year for Kelly Holmes. Having never won a gold medal in an Olympics before, Holmes flew past her competition, securing the highest accolade in not just one race, but two. This would be the first time a British female would earn a double gold medal.
Since her retirement, Holmes has been inducted into the English Athletics Hall of Fame, has set up her own charity for disadvantaged children and, in case you missed it, she's also a Dame. Phew!
Billie Jean King
Won the 'Battle of the Sexes' bout against Bobby Riggs.
Former No.1 tennis player, Billie Jean King, has a roster of achievements to her name, although she is probably best known for defeating Bobby Riggs in the Battle of the Sexes.
A true turning point in female empowerment, King subsequently thrashed the chauvinist Riggs in straight sets, showing 90 million viewers that women are just as powerful – if not more – than their male counterparts.
Soon after her earth-shattering win, King quickly took her new legendary status to do great things for women's rights, both on and off the court. Her initial movement, to form the Women's Tennis Association (WTA) was her first step in establishing equal pay on the circuit. Post-retirement, King became a household name as torchbearer of the LGBT community, and was even rewarded with a Presidential Medal of Freedom Award for her actions. You go, girl!
Mia Hamm
Became the first woman inducted into the World Football Hall of Fame (2013).
Mia Hamm, considered one of the greatest football players on the planet, singlehandedly put women's football on the map. Not only did Hamm twice receive the FIFA World Player of the Year, she also took home not one, but two, Sportswoman of the Year awards in 1997 and 1999, respectively.
However, it would be more than a decade and nearly nine years after retirement when Hamm would receive one of her greatest accomplishments to date. In 2013, Hamm became the first woman ever to be inducted into the World Football Hall of Fame. Some of the greatest male footballers of all time, such as Pelé, are now, officially and undisputedly, her equal.
Chloe Kim
Youngest female gold medallist at a Winter Olympics.

Throwing on her snowsuit and freestyling her way to victory, Chloe Kim made history on a halfpipe only last year. At just 17 years-old, Kim was seen as a relative underdog at the games – but that sure wasn't going to stop her. By the time she had pulled off her astonishing back-to-back 1080s, Kim had earned a near-perfect score of 98.25 and was ready to receive her well-deserved gold medal.
And while the next Winter Olympics isn't until 2022, you needn't wait that long to see Kim. In-between practicing flick tricks, this snowboarding maestro has designed a new doll of herself with Barbie (yes, that Barbie!) as part of their inspiring females range. You'll find a Barbie of Nicola Adams in the series, too. We'll take them all, please!
Now you're pumped for the summer of sport ahead, it's time to celebrate it at your local Mecca bingo hall. Over the next few months, our bingo clubs will be sporting a new set of bingo calls, from 'Hole in One' (for #1) to 'Full time' (for #90). They're super easy to follow, so don't worry about learning them all before you come – just make sure to have your dabbers at the ready for when your numbers come up!