Questions and Answers with our lucky £9,000 winner!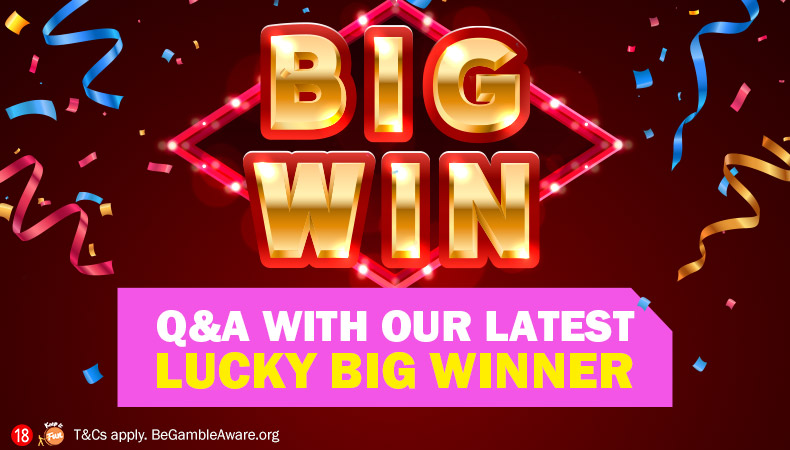 Sit back and close your eyes for a second and imagine that you've just won £9,000. How would you feel? What would you do with it? Would you jet off on holiday? Buy a whole new wardrobe? Well, for one very lucky bingo player in Leeds that dream became a reality as they actually did win an incredible £8,994 with us on MeccaBingo.com this month! We decided to have a chat with the ecstatic winner to ask them some questions about their win and find out how their life has changed…

Congratulations on your big win! Can you tell us in one word, how you felt when you got the news?
Shocked!

Who was the first person you told, if anyone?
My daughter. She thought I was kidding, she couldn't believe it.

If you told anyone by message, what did the message say?
I didn't text anyone but after I rang my daughter she made me send her a screenshot of my account to prove I wasn't lying!

Can you tell us all about how you celebrated?
I went into Leeds centre to celebrate with a few of my girlfriends. We went to Fridays as it had just reopened and had some food and cocktails and just a fun, giggly night.

We would be heading right to the shops! What was the first thing you purchased or thought about purchasing?
I bought a new computer for my youngest as they'd been needing a new one for a while.
Did you buy any gifts for friends and family, if so – what?
Sent all of my kids some money to treat themselves.

What would you choose, winning with Meccabingo.com or an all-expenses paid holiday?
Definitely winning on MeccaBingo.com because then I have more choice over what to do with the money, plus I've never been on an all-expenses paid holiday so wouldn't know what to expect.

Do you have any lucky charms or lucky numbers?
No not really, I'm pretty new to bingo so I don't have any lucky charms. My mum used to play a lot before she died but I've only recently started playing.

Have you won anything big before?
Never, that's why this was such a nice surprise.

If you had to spend all the money in one restaurant or takeaway – what kind of food would it be, and what would you order?
100% on Indian food. I absolutely love spicy food – the local Indian takeaway near my house does a delicious spicy masala that's my favourite.

Are you a night in kind of person, or a night out? And if you had to throw a winning party, what would it look like?
Night out for sure! The ideal winning party would be a big night out with friends and family with some lots of food, drinks and laughter.

Have you been playing with Mecca Bingo for long?
No, only for about two weeks! It's so funny because when I won my phone froze so I didn't even realise! It wasn't until I switched it off and back on that the result came up on screen, so I really do think it was amazing beginner's luck.

And lastly, if you could go ANYWHERE in the world with your winnings, and pick any celebrity to go with – who would it be, and where?
I'd love to go to the Dominican Republic, it's somewhere I've never been but always thought looked amazing. But in terms of a celebrity, I'd much rather go with friends and family who I know for a fact I'd have an incredible time with than a celebrity.


We absolutely love all of these answers, especially choosing friends and family to have a holiday with over someone famous… We can't help but think that we'd agree! If you want to have a go at trying for your own huge jackpot like our lucky winner, then don't forget about our huge range of fun-filled  Bingo Games. There's Penny Lane which has cash prizes for £250 with tickets as low as 1p and Best Odds Bingo which is designed to give everyone playing equal chances of winning. Oh, and don't forget to keep an eye out for our big money games, such as Gold Rush Weekend Wowzers on Saturdays from 6pm where we have a prize pot of an incredible £50,000!