Themed slot games: Movie & TV slots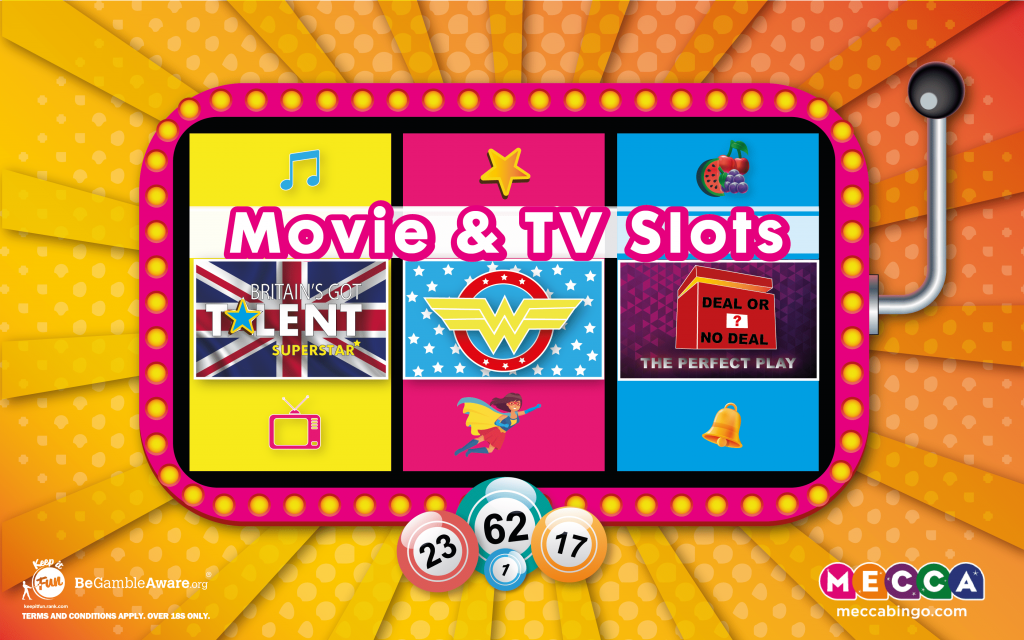 Did you know, we have a whole selection of slot games based on TV shows and films?
From quiz show classics and TV sensations, to blockbuster movies and comedy capers, we have it all covered over in our fab slots games collection.
Still 'reel-y' new at this? Make you sure you take a look at our tips on how to play slots.
TV slots games
If you're a telly addict, you're bound to recognise a few of our tv slots titles, with familiar faces and fab features straight from your favourite shows.
If you love gameshows and quizzes, you're in for a treat, with the likes of The £100k Drop, Deal or No Deal and Who Wants to be a Millionaire all given the slots treatment.
£100k Drop
Can you beat the drop and hold onto your cash? The £100k Drop Bonus Round comes straight from the show – split your cash across four rounds of trapdoors. Any cash that remains is yours to keep!
Britain's Got Talent Superstar
Showcase your superstar credentials in a slot based on the TV talent show. Exploding reels mean every win can lead to the next, as new symbols fall into place.
Deal or No Deal – What's In Your Box
Will you hold your nerve, or take the offer on the table? You'll have to make those difficult decisions if the banker comes calling in this superior slot. Sadly, Noel Edmunds isn't on hand to offer you his sage advice!
Deal or No Deal – The Perfect Play
Same show, completely different game – The Perfect Play plays like a classic fruit machine. It also comes jam-packed with an amazing 16 features – from 'Big Money', to 'Cash Combo' and beyond.
Game of Thrones
In the Game of Thrones slot, you win or you d…on't! Pledge allegiance to one of the great houses of Westeros for epic wins in the free spins round in one of our favourite tv slot games.
Top Cat
Join TC and his gang of streetwise cats in a slot that truly brings the cartoon classic to life. All your favourite characters make an appearance, with five tip top bonus rounds to be triggered.
Who Wants to be a Millionaire Megaways
Phone a Friend, go 50:50 or Ask the Audience if you make it to the Hot Seat Free Spins Gamble round in this Megaways game based on the classic quiz.
Movies slots games
Our movie themed slots include silver screen classics and popular comedies. Whether you're stepping into Dorothy's iconic ruby slippers, or chilling on the couch with the foul-mouthed TED you're in for a treat!
Anchorman: The Legend of Ron Burgundy
The supremely silly Will Ferrell comedy is the perfect choice for a themed slot, with bonus rounds featuring each of the Channel 4 news crew. Join Steve Carrell's deliciously dim-witted Brick at the Weather Wheel to win up to 2000x your stake!
Austin Powers
Say 'Yeah baby!' as the super spy makes his long-awaited return in a slot game that embraces the bizarre. Dr Evil, Mini-Me, 'Larger Gentleman' and more are on hand to deliver the goods – with groovy bonus rounds galore. There are even sharks with frickin' lasers!
Dumb and Dumber: Road Trip to Aspen
Join Harry and Lloyd for another bout of buffoonery, as they head on an ill-advised road trip to Aspen. Can the duo of loveable dunces stumble upon a fortune? Join them on the road to find out!
Jumanji
The animals are unleashed upon the reels in a lovingly made slot based on the 90's blockbuster. The only stampede to look out for is the rhinos' charge across the reels – adding random wilds symbols as they run.
Ted
The foul-mouthed TED and his collection of bad behaviours make for a hilariously entertaining slot game. A real Mecca fan-favourite, TED is packed with witty features and gross-out gags.
Ted Pub Fruit Series
If you prefer to play online slots that resemble classic fruit machines, you'll love this tongue-in-cheek take. Bonus trails and cash ladders mean there are loads of ways to win!
Wizard of Oz: Road To Emerald City
This seriously popular slot game series sees you following the yellow brick road all the way to Oz. Look out for cameo appearances from your favourite characters, including the Cowardly Lion, Scarecrow and the Tin Man.
Wizard of Oz: Ruby Slippers
Can't get enough of Oz? Us neither! This time out, you'll need to foil the wicked witch in the Find the Broom bonus round, with the Good Witch Glenda swooping in to give you a hand!
Wonder Woman
With her Lasso of Truth and indestructible bracelets, Wonder Woman made her triumphant debut on the cinema screens in 2017. This super slot harks back to the 70's TV show, for a delicious dose of nostalgia.
Ready to play slots at Mecca? You can give our games a go right here.