How to play online slots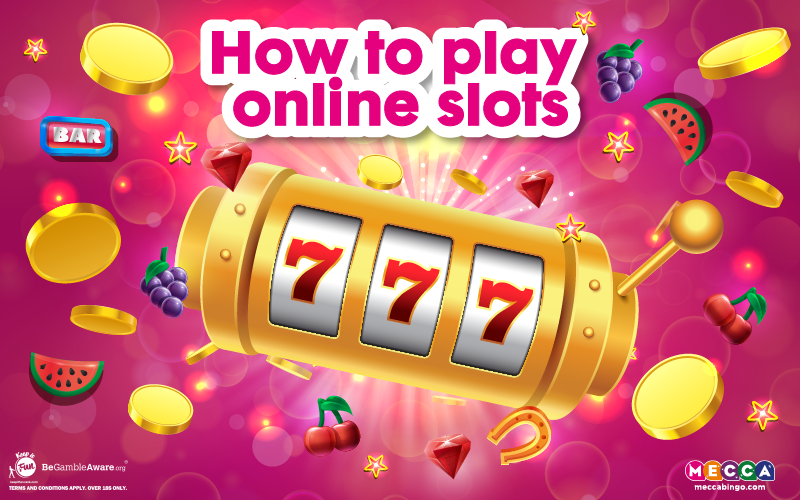 Online slots are popular because they're fun, simple, and easy to play. Here, you can find out how to possibly win by playing slot machines, how to pick the best game for you, as well as handy tips to help you get started. Before long, you'll know exactly how to enjoy online slots and are sure to feel like you've been playing online for years!
A quick guide to playing online slots
Online slots are as easy and fun to play as the traditional slot machines at your local bingo club or casino. All you have to do is place your bet, spin the reels, and try to line up the winning symbols.
Online slots share many of the same stylings and gameplay as traditional slots, but many also have some of their own unique features – plus you can enjoy them from the comfort of your own home. There are endless varieties to choose from, with bets ranging from as little as 5p upwards to much higher amounts.
Before you get started, lean about the elements you'll need to be familiar with, some of the terms you need to know, and an overview of the types of online slot games you can play.
The main features to look for on slot machines:
Depending on which game you choose, the screen you play on will probably look a little bit different every time. However, most online slot games will include the following key features:
Balance

Check how much money you have in your account, so you know what you can bet on your next game.

Paytable

Shows you what combinations to look out for and how much you can get for each winning combination.

Reels

Spin the reels to get the right combination of symbols to win money. Traditionally, slot machines had 3 reels, although 5-reels are becoming more popular and some games have many more.

Bet per line

Set how much money you want to bet for each line on your next spin.

Number of lines

Choose which lines you want to bet on and how much you want to stake.

Total bet

How much your next game will cost, with the bet for each line and the number of lines you're betting on considered.

Autoplay

Button that lets you watch the game play itself automatically.

Spin

The button that starts the reels spinning.
A quick jargon-buster for online slots
If you're new to slots, you'll see certain words and phrases coming up time and again. Here are a few to look out for:
Payline
This is where you want the winning symbols to line up.
Wild symbol
Some games include these symbols, which can help you to complete a payline by substituting for other winning symbols.
Free spin
Certain slots let you unlock free spins, which are basically extra free games. You could do this by completing a certain goal on the game or landing the relevant symbols. Otherwise, we might have a promotion on that'll let you get free spins.
Re-spin
Much like a free spin, you can have an extra go on the slots if you manage to win a re-spin.
RTP
This stands for return to player, and it's a useful statistic to keep an eye out for when choosing a slots game. It tells you the average percentage of money that's paid back to players.
Types of online slots
There are plenty of different types of online slot games, with a wide variety available at Mecca Bingo, so you're sure to find a style that suits the way you like to play:
Easy Play
These games are great for beginners, as they don't have particularly complicated paylines or bonus features. Check out games like Starburst to get a feel for how easy play slots work.
Jackpot games
There are a variety of jackpot games you can play at Mecca, including Daily Jackpots, which must be won before a certain time, and Must Go Jackpots, which must be won before the jackpot reaches a certain value. We also have a range of network and private jackpots including King Jackpot, MegaJackpots, and Fluffy Jackpots.
Branded games
Our branded games offer an extra layer of fun, bringing your favourite TV programs to life and allowing you to engage with them in a fun, new way. Check out games featuring popular shows and themes, such as Deal Or No Deal, Who Wants To Be A Millionaire, and Britain's Got Talent.
Multi Bonus
Our multi bonus games have lots of different types of bonus rounds and features, so you try a variety of different combinations that are sure keep you engaged. Our multi bonus games have lots of different types of bonus rounds and features, so you can try a variety of combinations that are sure keep you engaged. Head to the emerald isle with Rainbow Riches or go on a reel adventure with Jumanji. There are magical wins to be had with Pixies of the Forest 2, or play Jack in a Pot where you could bag a Daily Jackpot prize.

---
Online Slot Games Tutorial
Watch our video tutorial above!
---
Choosing the best online slots for you
You'll probably be wondering how slots games really work, and each game has subtle differences. With many different types of online slots to choose from, there are a few things to consider.
Generally, it all comes down to volatility. In some games, the likelihood of winning is higher, but the size of the prize is lower. Alternatively, you might play a game where you're less likely to win, but the payout is much higher when you do.
If you're new to slots then classic games are a great choice, as you can focus your attention on a smaller number of winning symbols and paylines. However, if you're a more seasoned player then choosing a game with multiple paylines and bonus features could give you a wider range of ways to win on your slots game of choice.
Slot machine tips
These quick tips will help you have fun when you're playing online:
Think carefully when you're choosing what to bet. Wagering large amounts could see you winning a higher payout. That said, you could also lose more quickly, so a series of smaller bets could mean you get to play for longer. Always ensure to play within your means and never bet more than you can afford.
Betting on all the paylines that your game offers could also increase your chances of winning, yet this can be costly. You could also bet on fewer paylines but keep switching between them. However, while this is cheaper, you could end up missing out on some payouts.
With all this knowledge in mind, we're sure you'll love all the online slots we have to offer. Find more of our top tips and fun articles on the blog homepage.
We're here to help you keep it fun – remember to set your deposit limit. Click here for more details on the safer gambling tools available including reality checks and the ability to take a break from your gaming.