Top 10 soap star hunks: who's your favourite?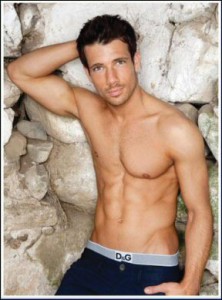 Let's face it, if you lived on the Eastenders' square or on Coronation Street cobbles you'd probably want to get out as fast as you could. Blackmail, murder, fires, shootings, fighting and plenty of shouting…the characters on our favourite soaps do have it rough and it's usually the hottest guys who are the meanest – but we can't help but love them.
We've put together a list of the top ten hottest soap star hunks to grace our telly screens, but who's your favourite?
10. Jake Wood
A controversial choice maybe, but just look at how many ladies Branning has pulled on the show, he's definitely the Cassanova of the square – although he was nearly buried alive and left by his former wife, Tanya, so maybe he isn't the best guy to be around. But there's definitely something about him…and he's great on the dance floor.
9. Marc Baylis
Marc Baylis plays our favourite bit of rough on the Corrie cobbles, although we're not so sure we'd want to be around him after the Tina and metal pipe incident. However, as Rob Donovan, Baylis sets many hearts a flutter on a weekday evening, in front of the telly.
8. Matt Di Angelo
Deano might not be our favourite character on the square at the moment, but we have to admit he is pretty fit. He's yet another bad boy on the list; what with stints in prison, plenty of fights, car crashes and the unforgivable assault on Linda, most recently.
7. Ashley Taylor Dawson
Dawson's character on Hollyoaks has come a long way since he was first introduced on the show, but he hasn't got any less hot. Now that he's got his beautiful twins to look after, we love him even more – he'd definitely be one of those dads on the school playground who gets all the mums excited.
 6. Ayden Callaghan
Hiding a dark past, the lovely-to-look-at Joe Roscoe is one of our faves on Hollyoaks as he fiercely protects those he loves and gives it to you straight. He's had to deal with a lot, but we'd be more than happy to take him in and look after him.
5. Matthew Wolfenden
We all have a real soft spot for Wolfenden's on screen character David Metcalfe, he's gorgeous, loving and puts his kids first. He might have a made a slight discretion with the scheming Priya, but now his life is back on track we hope and we can swoon over him happily now when settling down to catch up with Emmerdale. He's also King of the Ice, after using his background in gymnastics and dancing to scoop first prize on the show. Let's all just sit back and remember how good he looked in those tight outfits…
 4. Danny Dyer
We all love a bit of rough and Danny is just the thing. He's the ultimate cheeky chappy, on and off screen, who you can't help but have a soft spot for him – and he's pretty fit too!
3. Ryan Thomas
Ryan Thomas has won the hearts of women up and down the country with his baby face and cheeky personality. His character on Corrie has had a string of relationships and we all wish we could have been one of the lucky ladies to make the list!
2. Ben Hardy
The boy might only be 23 (and it's very hard to believe that he could be the son of Iain Beale) but Ben Hardy is an unadulterated hottie – have you seen that topless shoot he did for Attitude magazine? Phew!
1. Danny Mac
Winner of the Sexiest Male award at this year's British Soap Awards, and rightly so, Danny is every woman's dream guy. That jawline, those eyes, those rock hard abs…you really couldn't ask for more in a man. Best known for playing Mark 'Dodger' Savage, in Hollyoaks, he'll always have a place in our hearts.
So, who is your favourite? Have we missed them out? Do you think that there's anyone we should have skipped over? Let us know!