Up Close & Personal. When Mecca Met The Overtones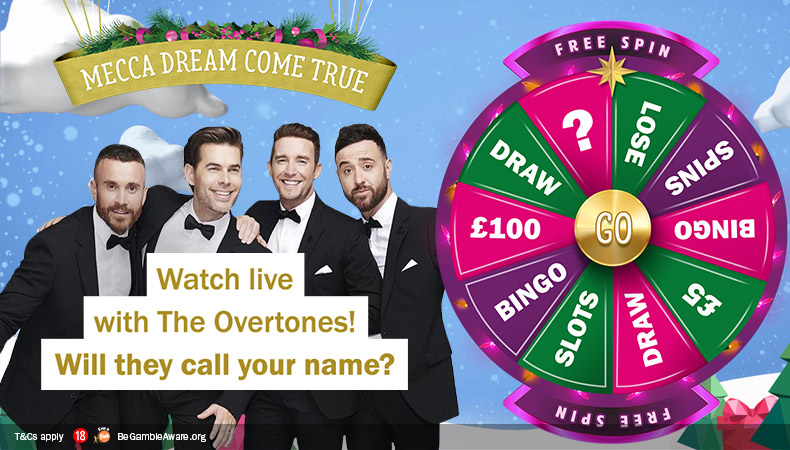 This week, we have the fabulous Overtones in the studio who are ready to rock and roll on our final Live Stream of Mecca Dream Come True. Can you believe it's the final draw and live stream already? We have had so much fun and we really hope you did too. Maybe we will just have to do it again, what do you think?
Anyway, we dropped by recently to have a quick interview with the boys. Finally it seems we have a group of celebs who don't have strange food habits! Or do we? This is how it all went down:
Mecca: Hi guys, thanks for agreeing to answer our Mecca Dream Come True quick fire questions. Christmas is approaching, so let's get on with it.
Mecca : Chocolate or cheese?
Darren – Chocolate. I love Lindt over Xmas and end up eating my body weight in it. I'm not a lover of cheese apart from on a pizza.
Mecca: What shoe size are you?
Darren – I'm a size 8 shoe. Used to be 7.5 but seem to have grown in the last few years.
Mecca: What was your first pet?
Jay – My first pet was a dog, he was a Golden Retriever called Murphy, always been a huge dog lover. I adore him, when I was small, I used to ride him like a horse.
Mark – Hammy was my first pet. Any guesses what animal that was?
Mecca: Would you date a fan?
Mike – Well I'm married so it would never be an option but our fans are the most caring, wonderful supporters in the World, we happen to have several dates with them next year on our Summer Celebration Tour lol (tickets available now – wink wink).
Mecca: Do you prefer Mel & Sue or Noel & Sandi as Bake Off presenters?
Mark – Mel & Sue. I used to LOVE them on Late Lunch back in the 90's. And we were lucky enough to be guests on their show a few years back. It was a right laugh 😂
Mecca: What would you cook to woo someone?
Mike – I would cook macaroni cheese! Now I think it's amazing but the lads in the band think it's rubbish. Either way it'll be a great talking point, whether it's a disaster or a triumph. Win win!
Mecca: How old were you for your first kiss?
Mike – I was 11 when I had my first kiss. It was in the playground and I was so nervous I got my friends to cover us and turn their backs so we could kiss privately.
Mecca: Perfect Night in?
Jay – Family night with the wife and kids, pizza and a quality family film. I'm a sucker for a Disney classic.
So, there we have it! It seems that The Overtones boys are actually pretty normal. However, that may all change when we get to see them in true colours in front of the camera tomorrow night.
Remember the live stream will run for an extra half hour this week from 10pm to 11:30 as it's the end of Mecca Dream Come True and before it from 8pm-10pm we will also have our £20,000 Grand Finale. You can play for prizes totaling £20,000 in the Main Event and Two Little Ducks rooms on MecaBingo.com and buy tickets from just 10p each.
What are you waiting for?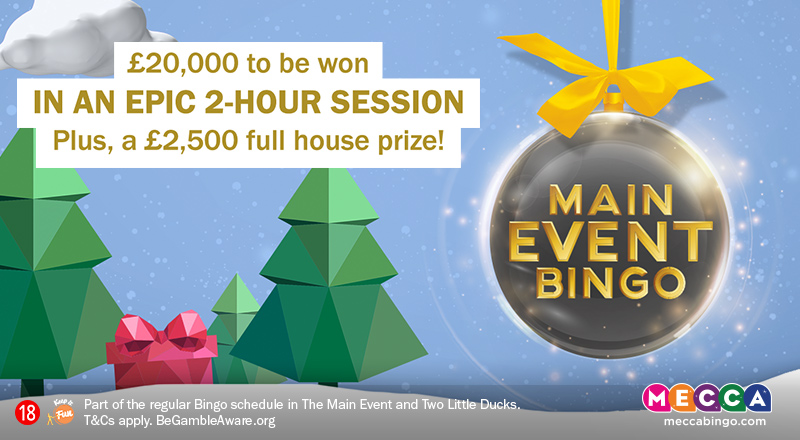 Individual T&Cs apply to separate elements of the promotion. Please see promotions page for full T&Cs.