The X Factor Is Back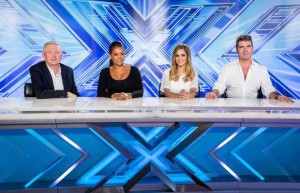 The celebrity judges have been fake-tanned to within an inch of their lives, their teeth are glowing like flashlights and they're arguing over who is going to wear the best outfits to the live shows. Yes, The X Factor is back and this year promises to be bigger and better than ever before. Simon Cowell, Louis Walsh, Cheryl Cole and newcomer Mel B are ready to listen to some of the very best and very, very worst singers Britain has to offer, and we just can't wait.
Is it wrong that our absolute favourite part of the process is the auditions, and the worse they are the better?  There's nothing funnier than a truly awful 'Jacko' impersonator, someone visibly very nervous and with no sense of timing trying to rap, or an old granny belting out a Celine Dion classic, but failing badly. Why don't their families stop them?  It's a bit like watching really, really bad karaoke at a wedding!
Most of the contestants have a tragic sob story to share with the cameras, probably hoping that their sad tale (cue violin music) about the cat who got run over when they were just a baby and how the memory of this caused them to hate singing in front of people…until today, will help win the public's affections and a few more votes when it comes to the live shows.  But I think we've all got wise to this trick now, haven't we?
The controversy amongst the judges has started already with Simon Cowell reportedly annoyed that he has been given the 'over 25s' category to mentor.  However, after Sam Bailey's success last year it's anyone's guess who'll win.  My money is on returning hero, Cheryl Cole (or should I say Mrs Fernandez-Versini) who will be mentoring the boys.  Fresh back from her prolonged leave of absence and having kissed and made-up with Simon, Chezza will be ready to prove what a mistake he made by firing her last time.
But the most exciting rumour to date is that Tulisa will be joining Louis Walsh in Bermuda for the Judges' Houses part of the process.  After being replaced by Nicole Scherzinger two years ago, Simon is apparently keen to help her get her career back on track, and it will be good to see her return to the show.
Whilst ITV are yet to announce an official date for the first show, it's expected to be around the end of August. But, if you can't wait that long and want to get involved without having to queue for hours to audition, then head on over to Meccabingo.com online where there are The X Factor games ready and waiting for you to play and enjoy.  You don't need to be able to sing to take part and there definitely won't be anyone there to judge you!
So that basically means we only have a couple of weeks left to socialise with friends and talk to our husbands because after that, Saturday's will mean one thing.
It's time. To face. The MUSIC.