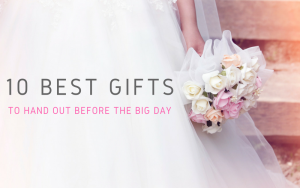 The lead up to a wedding is a magical time for any bride-to-be. However, with so many things to think about (from the cake to the venue to the wedding invitations), it can also be a pretty stressful time too.
So, to help you look after your beautiful brides-to-be, we've found some of the best gifts to hand out before the big day. Trust us – they'll go down a treat!
A personalised organiser
Planning a wedding is no easy task, so why don't you help out the bride-to-be by helping her organise her big day? Personalise it with photos of the happy couple to remind her of why she's getting married.
Favourite drink
Here at Mecca HQ, we know that, more often than not, a good tipple goes a long way. Find her favourite and wrap it up with a pretty bow to show her you care.
Bridal hanger
Personalised bridal hangers are both practical (for when it's wedding dress day) and pretty (they make a lovely chic souvenir).
Spa treatment
Give the future bride a day away from the stress of wedding planning and treat her to a day of pampering. Whether treating her to a bubbling hot tub or a Swedish massage, whatever she chooses, one thing is for sure: she'll be glad she chose a friend like you.
Engagement ring dish
After splashing out on a flash wedding, the happy couple will be looking for somewhere extra special to store their rings. Grab a personalised dish to really show them how thoughtful you really are.
Bridal nail varnishes
Give the bride-to-be a new look with a set of special bridal nail varnishes. Soft shades with quirky names, like Starter Wife and Show Me the Ring, should have her giggling in no time.
Personalised eye mask
In the run-up to the big day, the bride-to-be will likely be lusting for beauty sleep. So, to help her drift off, give her the gift of sleep with her very own bridal eye mask.
Scented candles
Not only do scented candles smell gorgeous, but they also work wonders on calming nerves. Try a lavender or chamomile candle to instantly relax the future bride.
Wedding countdown sign
Sometimes even the biggest events in life have a habit of appearing all of a sudden. To help the bride-to-be prepare for her big day, give her a wedding countdown sign to keep her on track.
Emergency wedding kit
While the word 'emergency' might sound scary, an emergency wedding kit is actually much more fun than that. An assortment of all the little things a bride-to-be might need, such as lip gloss, spare tights, concealer and compact mirrors, this convienient little kit could potentially save the day!
What gifts will you choose when the big day comes? Let us know in the comments, below!