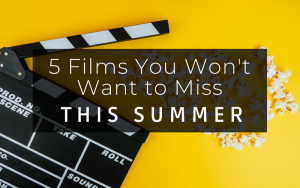 Summer is the time of year where blockbusters take over our cinemas (and Netflix accounts). Classics like Die Hard, Men in Black and Pirates of the Caribbean came out when the sun was shining – and this year is no different: there are a whole host of awesome movies taking to the big screen.
For your run-down of the most epic films you won't want to miss this summer, check out our favourites below.
The Incredibles 2
The UK's favourite superhero family finally make their return to the big screen a whopping 14 years after its first installment (although, incredibly, baby Jack-Jack hasn't aged a day!)
In this sequel, the Parr family look to regain the trust of the public. However, this time there is a new villain in town, the Underminer, and he is eager to ensure the superheroes of the world suffer. Will the Underminer take control of Metroville or will he get his just desserts? You'll have to watch it to find out!
Release date: 13th July
The First Purge
Set in dystopian America, this fourth installment in the Purge series is a prequel to the first gorge-filled film, which was released five years ago.
In The First Purge, audiences were shown a world where crime was legal for one day of the year. From manslaughter to drive-by shootings, this scary world isn't for the fainthearted. So, you should expect lots of blood and violence in this one (it's rated 15, as you'd expect) so be sure to visit if you're a fear-hungry film-lover.
Release date: 4th July
Skyscraper
Here at Mecca HQ, we are always interested when Dwayne 'The Rock' Johnson stars in a new action film – and this one is no different. Skyscraper follows former FBI agent Will Sawyer (Johnson) as he races to save his family from the top of the tallest building in the world. The reason for this? The skyscraper has been set on fire by a terrorist group who seek to pin the blame on Sawyer. It's not looking good for 'The Rock in this one.
Will he clear his name or is it all over for this FBI veteran?
Release date: 12th July
Mamma Mia! Here We Go Again
You are humming this Abba classic right now, aren't you? Good. Now we can begin. In this star-spangled romantic musical, you'll be tapping your toe from start to finish as the likes of Amanda Seyfried, Meryl Streep and Cher (yep, that Cher!) take to the big screen.
Both the prequel and sequel of the original Mamma Mia! Film — which is ten years old, btw! — this next installment sees Sophia (Seyfried) pregnant with Sky's (Dominic Cooper) baby. With plenty of flashbacks to Sophie's mother (Streep) along the way, you won't be short of sing-and-dance opportunities as her story unravels.
Release date: 20th July
Mission Impossible – Fallout
Tom Cruise is back as Ethan Hunt in another heart-racing installment of Mission Impossible. In his most recent film, Ethan Hunt and the IMF find themselves in a race against time after a mission goes seriously wrong. This is the sixth and final installment in a movie franchise which has stood the test of time, so you can expect all-out action and expensive explosions (as per usual). Catch Ethan Hunt and the IMF when they hit the big screen this summer.
Release date: 27th July
Which of these films will you be checking out this summer? For the chance to WIN a £30 gift card for the cinema of your choice, let us know your favourite new film on our Facebook and Twitter channels.