Why Love Island is the Best Show Ever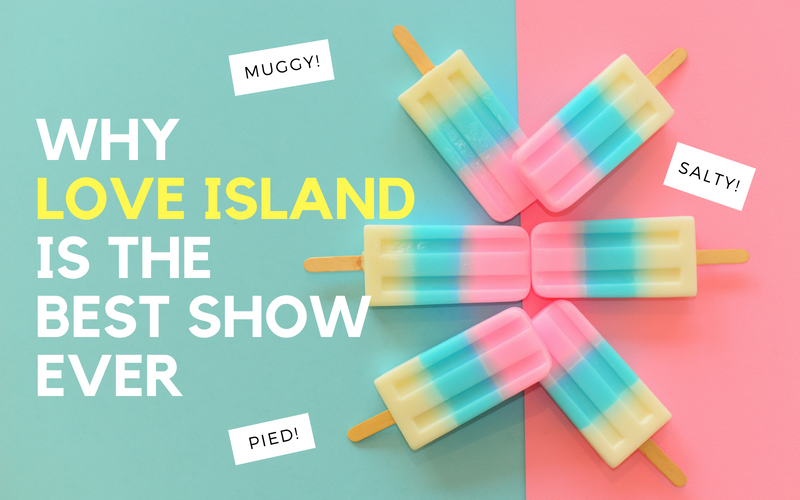 The TV show which marks the start of the summer season, Love Island, is set to hit our screens next month and, well, we can't contain our excitement!
In this primetime reality show, perma-tanned contestants couple up in an attempt to find "love". Along the way, the swimwear massive are put through their paces, with break-ups, make-ups, confrontations, cuddles and – ahem – cheeky undercover fumbles par for the course.
If you're still unfamiliar, imagine the perfectly coifed hair of Take Me Out, the tasks of Big Brother and the ridiculousness of Geordie Shore. Yep – this is a show which, quite literally, ticks every box for the British public.
So, to get you excited for Series 4 (as if you're not already!), we've rounded up our top reasons why Love Island is the best show ever. (As you'd expect, this was a VERY easy blog post to write….)
The storylines are gripping (and cringey)
When the uk realised that Gabby's brother was coming into the villa #loveisland pic.twitter.com/SNvl4y4ely

— Love Island Memes (@IslandReactions) July 24, 2017

The premise is simple: couple up and try to win the £100k prize. Sounds easy, right? Wrong. With Caroline Flack throwing in bombshells left, right and centre and the contestants not helping themselves, either (remember Kem and Amber's shock recoupling?!), there are always plenty of juicy storylines to go around the villa.
The contestants are hilarious
Okay, while they might be super buff, tanned and impossibly Instagram-friendly, the contestants are also super relatable. Remember how Montana used to look at food, or the resilience of Sam after one too many pies? And who could forget when Chris, Kem and Marcel stole the girls' hearts with their "unique" rap?
Beach vibes are high
The floor is Jonny #loveisland pic.twitter.com/ciqbSXWgMt

— Love Island Memes (@IslandReactions) July 10, 2017
Few TV shows get us excited for summer quite like Love Island. Consistently gorgeous weather, tanned bods, sapphire-sparkling pools and teeny-tiny bikinis – it's no wonder searches for flights to Mallorca sky-rocket when Love Island is on the air!
Love is in the air
Who doesn't love love? While the premise of the show might sound pretty throwaway, Love Island has hooked up plenty of couples along the way.
Away from the prying lens of the camera, proposals have been put forward (Alex and Olivia, Jess and Dom) and beaut Love Island babies have been born (Nathan and Cara, Luis and Cally)!
And how could we forget the tightest partnership of all-time? Chris and Kem. Their bromance blossomed on the show, so much that, shortly after the show finished, they released a song and TV series together!
They have their own language
When you realise Sam and Muggy Mike are back #loveisland pic.twitter.com/58s02a6xOj

— Love Island Memes (@IslandReactions) July 12, 2017
If you're a TOWIE fan, you'll be well-versed in the way of 'pies' and 'mugs', but never has it been quite so popular as in the Love Island villa. Here is just some of the lingo you should revise before 'cracking on' with the next series:
Crack on (flirting)
Muggy (someone who has acted inappropriately)
Melt (behaviour that's insulting or insincere to another person)
Pied (to be dumped)
Salty (bad-tempered or stand-offish)
It's universal
As we say on Love Island, 'on paper' Man City should win https://t.co/A828y0GUie

— Claude Littner (@claudelittner) December 10, 2017
With nearly three million viewers tuning in for every episode, Love Island has appeal which few reality series have ever managed to achieve.
Just think about it: when can you last remember a group of glamorous 20-somethings peaked the interest of Labour party leaders or business tycoons? We rest our case.
There's ample eye candy
When your mum does your hair for school picture day #loveisland pic.twitter.com/g8FSRlJO8G

— Love Island Memes (@IslandReactions) July 8, 2017

With 24/7 swimwear, six-packs and pert posteriors, Love Island is a show which knows what the British public crave the most – and that's eye candy. The equivalent of eyeing up an attractive holidaymaker behind sunglasses, Love Island is the cheeky best friend who tells us it's okay to window-shop 😉
What are you most looking forward to in Series 4? Let us know in the comments, below!