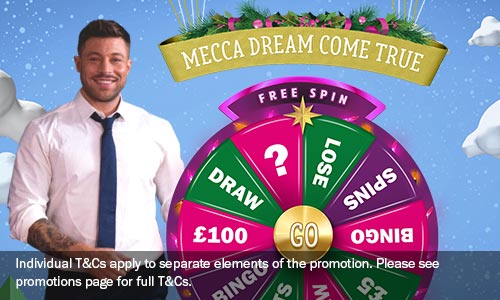 Well, what fun we had! Did you tune in to our first Festive Mecca Dream Come True live stream and draw last Friday? If you didn't see it, you can catch the replay on our Facebook page right here.
If you don't have time to watch the recording right now, here's a quick recap…
We started off with a chat between our host Lisa Celeste and celebrity guest Duncan James, where all things Blue and Hollyoaks were discussed including some outrageous admissions from Duncan about fellow celebrities he snogged on screen and what goes into the making of those intimate moments.
This was followed by a segment from our shopping expert Alex, who showed us a fab range of Christmas presents available for under £20. This led to Duncan showing us his underpants (yes, really – if you want to know why, you'll need to head to the recording!)
The most hilarious section of the night followed with the Celebrity Challenge which had Duncan and Alex trying to roll an After-Eight into their mouth without actually touching it, plus a race to see who could cram as many marshmallows in their mouth as possible. The fun never stops at Mecca!
We had prize draws throughout the Live Stream, but our big winners were left for Duncan to draw from the tombola and can be found below:

Chatname
jo12990
kearbear233
crisalex
kahrol2002
icarrus
laura444
Nets_10
mandyj44
kisses2wishes
ianw26
suet58
StretfordJimbo
M111TCH
paulo492
chezhanna
YVESYVES
xshirleex
pimmstoo
kezpeter2017
RASHMICH76
steph4
QUINTON1977
tralyn
Prize
£100
£50
£100
£50
Ipad
Iphone
Bingo for a year
Holiday voucher
VIP concert
Bingo for a year
Awards Evening
West End Experience
Mecca Me Over
Celebrity Hotel
Celebrity Hotel
Celebrity Hotel
Celebrity Hotel
Celebrity Hotel
Celebrity Hotel
Celebrity Hotel
Celebrity Hotel
Celebrity Hotel
Celebrity Hotel
Congratulations to all our winners!
Individual T&Cs apply to separate elements of the promotion. Please see promotions page for full T&Cs.