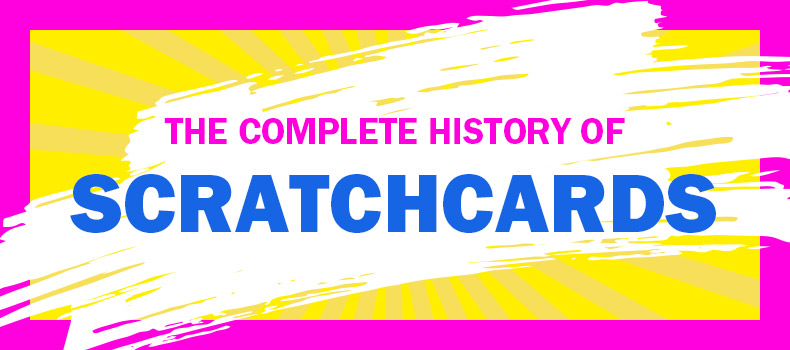 Whether you call them scratchcards, scratch tickets, or scratchies, these instant win lottery cards are played by millions of people around the world. However, they're actually a fairly new way to gamble. Join us as we take you through the history of this gambling game and how it became so popular.
Before the scratchcard
Considering how commonplace scratchcards became, it might be hard to believe that before 1974, they didn't even exist. But what did people play instead of this incredibly popular game?

Prior to 1974, one of the most accessible forms of gambling was the traditional lottery. Unlike casinos and other types of gambling games, lottery agents were often located in places like supermarkets or petrol stations, so people didn't have to go out of their way to play.

At the agent, players could acquire as many lottery cards as they wanted. These cards contained multiple grids with consecutive numbers on them, while the range of these numbers varied from lottery to lottery.

Players marked off what they hoped to be the winning numbers, and handed the card in to the lottery agent. The agent recorded their numbers and gave the player a ticket with their selection of numbers as proof. The player then waited for the announcement of the winning numbers, which could take days, depending on when the next draw was.

Lotteries understood the anticipation many players felt while waiting, and many made sure to put on a show that matched the growing excitement of their players. Attractive announcers, expensive sets, and exciting music all became a part of the experience. This was usually broadcast live on television once the technology allowed for it.

Lottery players, their tickets tightly in hand, waited in anticipation while the announcers used special machines with numbered balls to randomly select the winning numbers. Depending on how many matching numbers a player had, they may win the jackpot and walk away a millionaire, or win nothing at all.

While this type of game may have been fun for some people, what if it wasn't for you? What if waiting days upon days to know if you'd won anything was more annoying that exciting?

This was the same question asked by John Koza.

I want it all, I want it all, and I want it now
John Koza, who graduated with a Phd in computer science from the University of Michigan, had worked at J&H International, a company that printed Bingo cards for US grocery stores. Koza developed the algorithms behind this card game that were fair to all parties involved.
These cards, much like the modern scratch ticket, were covered in a special coating that could be scratched off to reveal a prize. These cards were printed in relatively low numbers and given to store patrons to encourage them to visit.
Mental Floss reports how Koza was fired from his part-time job at the company in 1972, giving him the time he needed to get an idea he had off the ground. Koza believed that the same concept behind the algorithms that kept the grocery Bingo cards fair, could be adapted to suit a lottery scratchcard game. This game could eliminate the waiting period that characterised the traditional lottery and offer players an immediate payoff. Well, immediate in the sense that they knew if they'd won any money or not as soon as they chose to after purchase.
Let's get down to business
While Koza knew he could handle the mathematical calculations that would drive the game, there were other aspects that he would need help with. In order to bring his idea to life, he partnered with Dan Bower, someone he had worked with at J&H International, who also had experience as a retail promoter. By 1973, the two would officially be working together as the founders of Scientific Games Corporation.
With the company officially up and running, they pitched their concept to the eight state lotteries running at the time. The Massachusetts lottery, which at the time was headed by another University of Michigan alumni, decided to invest in the idea and ordered 25 million cards.
It wouldn't be smooth sailing for Koza and Bower, who first had to figure out how to operate within complicated federal and state laws. There were also great concerns about counterfeit cards that might be used to defraud the game, resulting in the development of a secret coating for their cards.
Despite the difficulties they had to overcome, this idea would change the lives of Koza and Bower forever.

Here comes the money
"The Instant Game", as it was called, was an instant success. After just seven days of promoting the game, they had sold $2.7 million worth of cards (approximately £2.08 million), almost tripling what the lottery usually made in a week.
The New York Times Magazine describes Koza's reaction to the launch of the game:
"Koza marvelled at the lines that stretched down blocks. 'Stores were demanding extra tickets,' he says. 'The paperwork was overwhelming. We had to print more tickets, and then, of course, all the other states took notice because the sales were just spectacular.' "
He also comments about the design of the cards, which he believed helped contribute to their success:
"In the '70s, the New York scratchcards celebrated local tourist attractions like Letchworth and Whiteface Mountain. 'Some of those early tickets were really quite elegant,' Koza says. 'In the beginning, there was a feeling that the attractiveness of the ticket had something to do with the success of the game.' "
Just two years after the launch of Scientific Games in 1974, the company would be earning a total revenue of $15 million (£11.5 million). This would attract the attention of Bally Manufacturing, known at the time for their pinball and slot machines, who bought Scientific Games in 1981.
Mental Floss continues to describe how the game grew, with California's lottery ordering 700 million tickets from Scientific Games in 1985.
Scratch tickets also got another boost in popularity in 1985, thanks to the introduction of the Take-a-Ticket. This device, which was developed by small business owner Cal Tigner, allowed the tickets to be easily displayed during a time when they were sometimes kept out of sight. Naturally, if people could see the tickets, they were more inclined to buy them.
Across the ocean to the UK
Scratchcards didn't make it across the Atlantic in 1987, as some websites report. They were, in fact, only introduced to the UK eight years later in 1995. This form of gambling was brought over by National Lottery operators (Camelot) and has since become one of Britain's most popular games. Camelot recently reported a record of £3,125.0 million from The National Lottery's scratchcards and online Instant Win Games.

The birth of the online scratchcard
It's unsurprising that online gaming sites would look to recreate the traditional experience on the internet. Unfortunately, unlike the huge impact of the traditional version of the game, the move online made less of a splash, making it difficult to confirm who first developed the digital version and when exactly it was launched.
However, the experience is still similar to its physical counterpart. Many online scratch tickets require a player to swipe their mouse over the card to reveal their winnings, much like they would with a coin.
It's also unsurprising that people have taken to this new format as quickly as they have. It offers many benefits over the traditional version, including:
More spending options — With traditional tickets you're locked into far fewer pricing options than you are online.
Bigger prize pools — Generally speaking, since online games have a greater reach and more people playing, they tend to offer bigger prize pools.
Quicker payouts — With the traditional game you would need to claim your winnings, which could take a while depending on the amount involved. Thankfully, a lot of the time spent waiting for a payout is removed by playing online.
Play wherever, whenever — Lying in bed in the morning, or catching the bus home from work? Log online from your mobile phone, tablet or laptop and enjoy a quick game.
The future of scratchcards
Where to from here for this simple and exciting game? With the growth in virtual reality technology, including headsets that can track your fingers, and haptic technology that allows you to feel your interactions in the virtual world, perhaps it won't be long until people are happily scratching away in VR as well.
Enjoy some online Bingo in the meanwhile
While scratch tickets can undoubtedly be a lot of fun, sometimes you might want to try something new. Thankfully, Mecca Bingo has a variety of games that you can try out. You can dive into online Bingo, or try out one of our wide range of virtual slot machines and casino games. Whatever tickles your gaming fancy, Mecca Bingo has something for you.
Keep it Fun
We're here to help you keep it fun – remember to set your deposit limit. Click here for more details on the safer gambling tools available including reality checks and the ability to take a break from your gaming.​
We've also made it even easier to find our Safer Gambling tools from the home page of our website and there's loads of information available at GamCare. You can also call the National Gambling Helpline, 24 hours a day, 7 days a week on Freephone 0808 8020 133.​