Top 10 apps for your new iPhone, Android phone or tablet this Christmas Day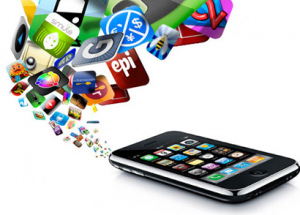 Around this time of year, you can be sure that near the top of many people's Christmas lists will be the latest bit of mobile communications technology. Once the turkey has been carved up and the final spoon of brandy butter dolloped onto brandy infused puddings many households in the UK will settle into the sofa for a well-deserved snooze while the kids play with their new Transformer's Bumblebee (or watch Disney's Frozen for the umpteenth time).
It'll be around this time that the multi-layered packaging will get peeled off over a million new smartphones and tablets. From the stunningly designed iPhone 6 to the hugely feature-rich Samsung Galaxy 5, the super defined iPad Air or HTC Nexus 9 – many millions of excited fingers will be furrowing away to get to the new tech inside.
So once you've got your new device in hand, you need to start populating it with the best new apps on the market. So here's an early Christmas present – the top 10 Apps available this holiday season.
1/ Christmas Genius Award
Haven't had your fill of Christmas? Need a chuckle with your sherry on Christmas evening? Then you absolutely have to download the free Elf Yourself App. Take a photo of your family and the app will turn them into elves and create a dancing video. Simple, brilliant and bloomin' hilarious!
2/ Music
There are a plethora of choices here but really the only option as your first app download is Spotify. User friendly, good value and with every tune you could or should ever want to listen to, whether on the way to work, out for a run or just relaxing at home
3/ Entertainment and Gossip
You can't go too far wrong with The Daily Mail's Mail Online App. Chock full of the latest celeb news, views and gossip it's your direct link to the A to Zed list, available free in the App Store and Android stores.
4/ Health and Fitness
Want to earn of some of the Christmas over indulgence? Then you need the Fit Star App. The best fitness technology gives you a private personal training App that provides a team to motivate you and get you to your fitness target.
5/ Dating
Want to make 2015 the year of love? Then why not download the MySingleFriendApp? A bit more selective than the Match.com's of this world, profiles are written by your best friend, so you get a better feel for potential dates (rather than the usual self-promoting clap trap!)
6/ Bingo!
Fancy a flutter but want to keep it fun? Then the Mecca Bingo App is definitely the way to go. There's a brand new tablet app or award winning mobile bingo app and both are just the ticket. Plus as an extra Christmas pressie you'll get up to £40 free when you make your first deposit. The best bingo app this Christmas is available free via this link http://www.meccabingo.com/mobile
7/ News
BBC iPlayer remains the benchmark for news and programming and their App is awesome, as you'd expect from the UK's national broadcaster
8/ Cookery
Love him or hate him, you can't deny Jamie Oliver knows his stuff, and even if your Christmas dinner looked more like a bonfire on 6th November his new App 'Jamie's Recipes' will be able to guide you to culinary greatness (or at least ensure your family won't go hungry through January!)
9/ Games
If you're after the Candy Crush of this season, look no further than Clash of Clans by SuperCell. An epic social game that is one of the highest grossing App games of all time. It's free to join, has amazing graphics and allows you to bring your friends to the heart of the adventure. A confirmed classic and a must have for any keen social gamer.
10/ Sport
For the sports fan in your household, Sky Sports Live Football Scores Centre gives real time live scores, headlines, fixtures, results and much, much more
Take a pick from these delights and your new phone or tablet will be the envy of your family by the time the turkey is rolled out again for sandwiches on Christmas evening!