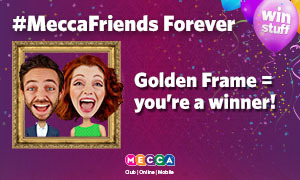 "Friendship," wrote CS Lewis, "is born at that moment when one person says to another: 'What! You, too? Thought I was the only one.'" That said, the argument between "opposites attract" and "birds of a feather flock together" continues, not to mention the fact that the reason we choose our friends is perhaps less honourable than we might think.
No matter what the reason, we need friends, and they need us. And it seems we have one for every occasion, be it for a cuppa and a catch-up, a nibble and a naughty night out, or a workout and a whine. And despite having a pal for every occasion, having a best friend is a huge bonus in life. That special friend who is always there – through good and bad times – despite our claims that our friendship is without agenda (because it doesn't really matter, does it?!).
It is for this very reason, Mecca bingo celebrates friendship, because 'Friends that play together, stay together'. So head to www.meccafriends.com for the chance to win daily Mecca gift vouchers in our #MeccaFriends gallery.
How do I join the #MeccaFriends fun?
All you have to do is grab your bestie. Take a selfie. And tell us how much they really mean to you. See details here: www.meccafriends.com
How do I win?
1) Tweet, Instagram or upload it to www.meccafriends.com
2) Tag it #MeccaFriends
3) Give it a caption (tell us what your friend means to you)
3) Keep an eye on www.meccafriends.com
4) Find a #GoldenFrame around your pic? You're our daily winner!
A great way to celebrate friends AND win fabulous Mecca gift vouchers, what more could you want?! After all, friends that play together stay together…