World Nutella Day
It's the 5th February, which means one thing only: World Nutella Day has landed at last!

And what better way to celebrate the world's favourite chocolatey hazelnut spread than with a scrumptious recipe for Nutella Rice Krispy Treats?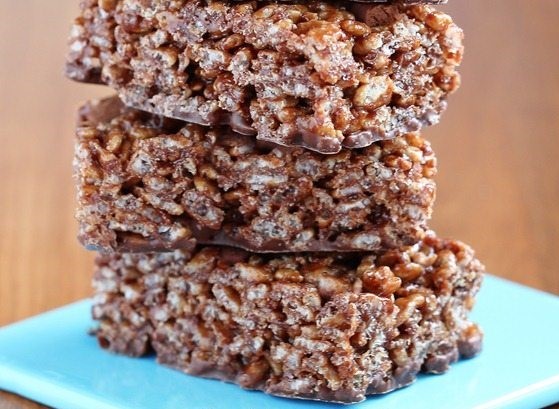 Nutella Rice Crispy Treats
These ultra chocolatey Nutella crispy treats could not be easier to make. Simply combine everything together, and press into an 8×8 pan. There's no baking required, and you only need 6-7 ingredients!
Ingredients
3 cups rice crispies, gf if desired

2 1/2 tsp pure vanilla extract

1/2 tsp salt

1/2 cup + 2 tbsp Nutella OR chocolate spread of choice

1/2 cup agave or honey

1/4 cup cocoa powder

optional melted chocolate for dipping
Directions
In a large bowl, mix all ingredients but the rice crispies. Melt to a stir-able consistency (either in the microwave or on the stove)
Then pour over the cereal and stir very well, making sure to coat all the crispies.
Line an 8×8 pan with wax or parchment paper and spread the mixture evenly into the pan.
Place a sheet of wax or parchment paper on top, then press down as firmly as you can. Really press it down!
Freeze for at least a half hour before slicing, and store the homemade bars in the fridge or freezer. Dip bottoms in melted chocolate if desired.
Mmmm…delicious! We hope you enjoy these sugary Nutella-laden goodies. What's your favourite Nutella recipe? Head over to our socials to see some more recipes, and share yours!